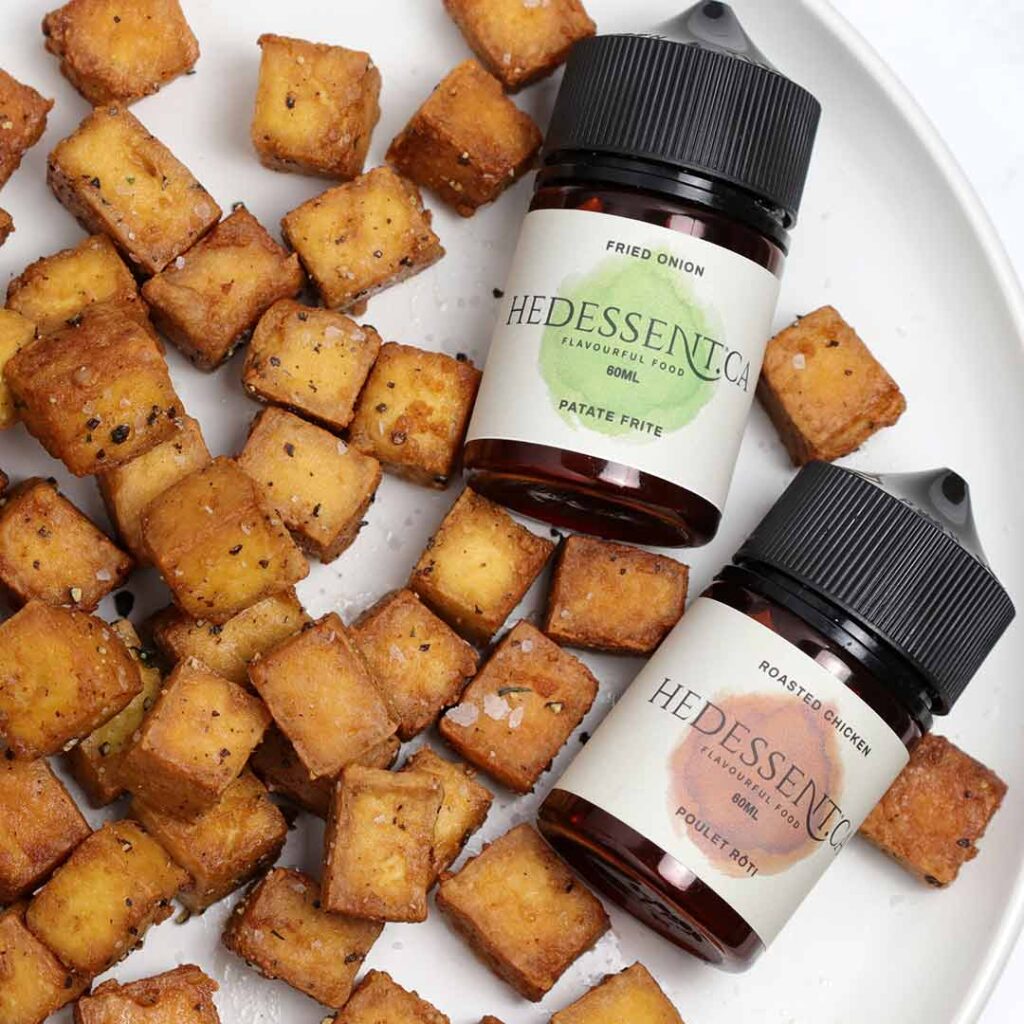 This quick and crispy Air-Fried Tofu packs a whole lot of flavour in every bite!
Get all the flavours you love in this Air Fryer Tofu recipe. A nutrient-rich source of protein and a delicious alternative to meat that everyone – vegan or not – will enjoy!
Our Roasted Chicken Flavour adds all the savory depth of poultry while sparing our fine, feathered friends. The Fried Onion Flavour imparts the authentic taste and aromatics of a deep-fry but skips out on all the fat and extra calories. Add a little Chili Hot Flavour for a kick.
Pair with our Vegan Mayo as a creamy, zesty dip! Together, you've got the perfect healthy and crunchy snack to satisfy any craving – guilt-free!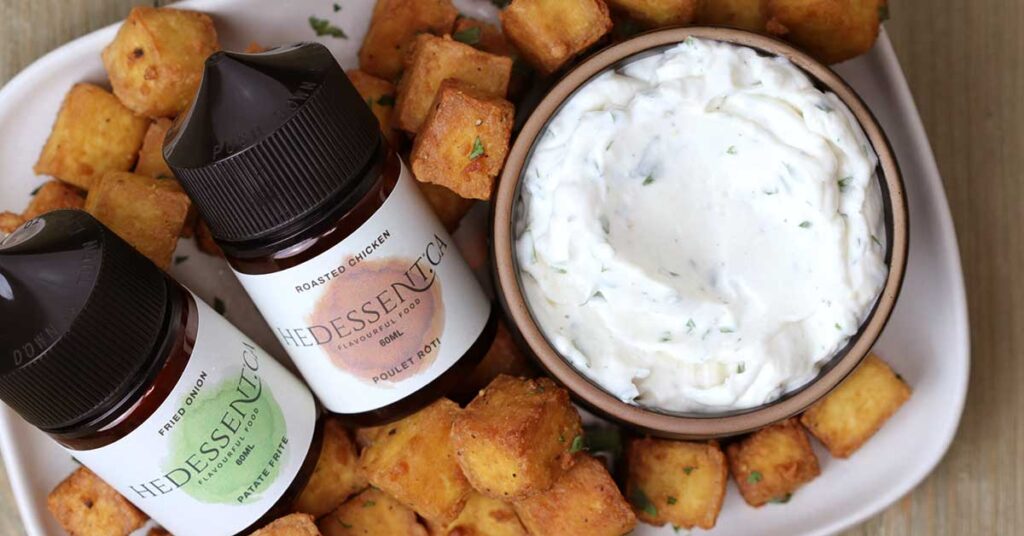 Air-Fried Tofu Recipe
Ingredients
1

pkg

extra-firm tofu or firm tofu, drained

1

tbsp

soy sauce

1

tbsp

vegetable oil or olive oil

1

tbsp

cornstarch

1/2

tsp

Hedessent Roasted Chicken Flavour

approx. 75 drops

1/2

tsp

Hedessent Fried Onion Flavour

15-18

drops

Hedessent Chili Hot Flavour

Pinch

salt and pepper
Instructions
Halve tofu horizontally to create two halves like a book; place flat and double wrap in a kitchen towel or paper towels, and place a cast-iron skillet or a large plate with canned tomatoes on top. Let sit 15 to 20 minutes to absorb excess water.

Preheat air fryer to 375°F.

In a large bowl, stir together soy sauce, oil, Hedessent Chicken flavour, Hedessent Fried Onion flavour, Hedessent Chili Hot flavour,  salt, and pepper until combined.

Cut the tofu into cubes. Add to the bowl and gently toss to coat; let marinate for 10 minutes. Sprinkle with cornstarch, tossing to coat.

Arrange tofu in air fryer basket in a single layer, leaving space in between without overcrowding the basket. Air fry until golden brown and crispy, 11 to 14 minutes, shaking the basket and flipping halfway.

Immediately sprinkle with more salt and pepper and serve with vegan mayo. Repeat with remaining tofu.
Video
Notes
Pro Tip #1:
Going gluten-free? Toss with tamari instead of soy sauce.
Pro Tip #2:

Refrigerate for up to 3 days in a container and re-crisp in air fryer for 3 to 5 minutes.
Get all the flavours you need to make this dish when you purchase our Savory Starter Kit!
More Quick and Easy Recipes
View More Recipes