These sweet confections are the perfect bite-size treat.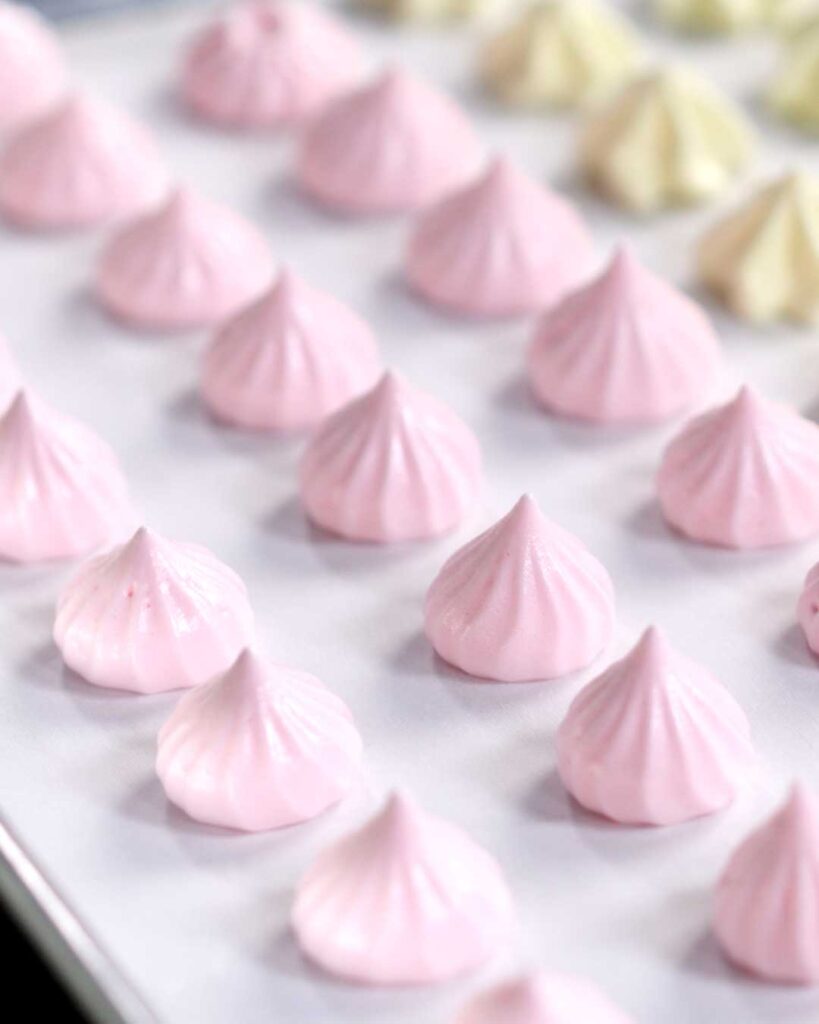 Their airy, light texture and crispy finish makes them so fun to eat, and because they're vegan, everyone can enjoy!
Meringues are easy to make, and using aquafaba as the egg-white replacement is a brilliant kitchen hack. The next time you open up a can of chickpeas, don't throw out the liquid! Whip up some fluffy meringues instead! You only need a few simple ingredients to turn it into a truly tasty and phenomenal treat!
The use of food colouring in this recipe is optional, but it's an easy way to tell the flavours apart and makes a beautiful presentation! Our Strawberry Swirl Flavour tastes like a juicy candied strawberry swirled with vanilla. The Blue Freeze Flavour is reminiscent of a blue "freezie," or what some may know as blue "flavor ice." Our Candied Peach Flavour you've likely seen before in other recipes like our No-Bake Cheescake and is so good, we had to add it as an option too! It's similar to the popular peach gummy candies you can find at any grocery or convenience store – starts out a little tart and mellows down to perfect peachy goodness. Place these sweet little morsels out over a pretty tray, and they're sure to please any sweet tooth!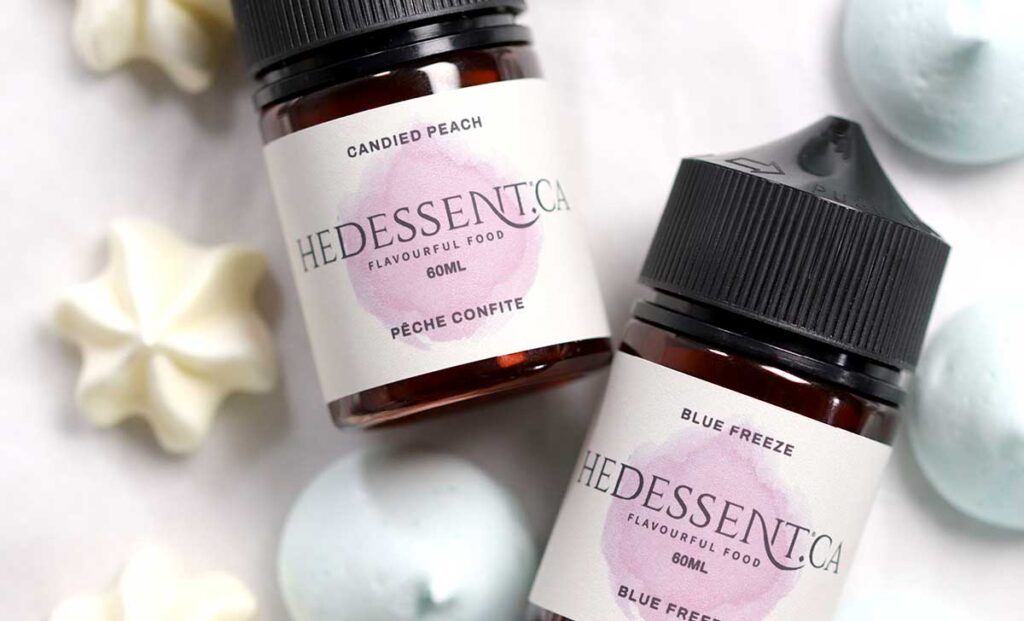 Vegan Meringue Recipe
An aquafaba-lous bite-size treat.
Equipment
Stand Mixer

or electric hand mixer

large bowl

Rubber spatula

Piping bag and tips
Ingredients
1/2

cup

aquafaba

liquid from canned chickpeas

1/2

cup

granulated sugar

1/4

tsp

cream of tartar

1/4

tsp

Hedessent Strawberry Swirl flavour

1/4

tsp

Hedessent Blue Freeze flavour

1/4

tsp

Hedessent Candied Peach flavour
OPTIONAL
Food Colouring

use different colours to go with different flavours
Instructions
Arrange oven racks to centre position and one below. Preheat oven to 200°F; line two baking sheets with parchment paper.

In the bowl of a stand mixer fitted with the whisk attachment, combine aquafaba, sugar, and cream of tartar. Beat on medium for 1 minute. Increase speed to high and beat until thickened and stiff peaks form, 8 to10 minutes.

Separate meringue mixture evenly into three bowls. Add ¼ tsp of Strawberry Swirl to one bowl, and if using, add a couple drops of red food colouring.

In second bowl, add ¼ tsp of Blue Freeze flavour and a couple drops of blue food colouring (if using) and fold in.

In third bowl, add ¼ tsp of Candied Peach and a couple drops of yellow food colouring (if using) and fold into meringue.

Scrape into piping bags fitted with a ½-inch crown or plain tip. Pipe the meringue into ¾ -1 inch circles spaced ½-inch apart onto prepared baking sheets. Repeat this step for each flavour.

Bake meringues without opening the oven for 1 hour. Switch and rotate the baking sheets and continue baking until meringues are dry and firm to the touch and easily lift off the paper, 40 to 60 more minutes.
Notes
Pro Tip #1:

If only using one flavour, use ¾ tsp of that flavour for the entire recipe.

Pro Tip #2:

Store in an airtight container for up to 3 days.

Pro Tip #3:
Reheat in a 200°F oven for as long as needed if meringues become sticky.
More Sweet Treats for Your Sweetheart
View More Recipes