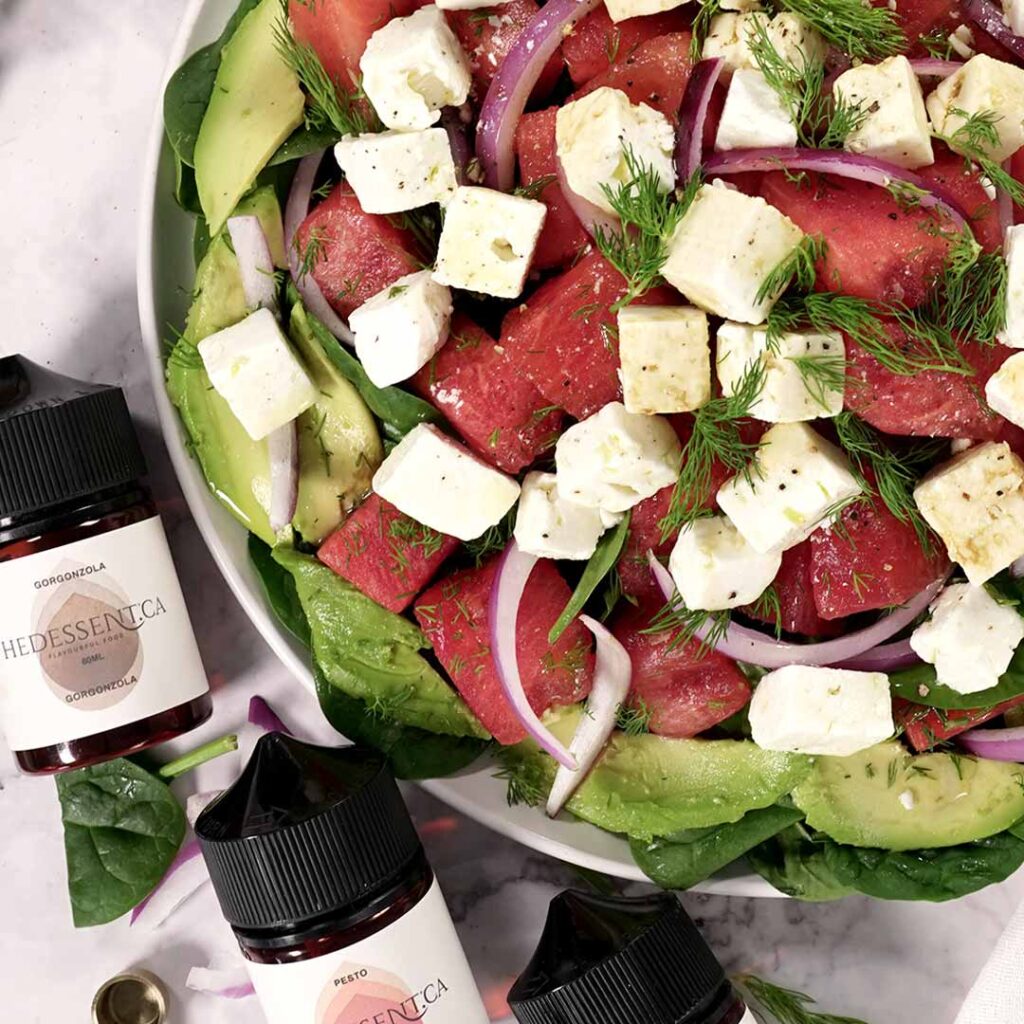 A summer salad for your next bbq party, coming right up!
Juicy, ripe watermelon meets spinach and feta in our latest recipe from Blossom Bakery. This dish is a beautiful blend of savory, sweet, and refreshing – perfect for a hot summer day. Onions and Feta, paired with our Gorgonzola, Celery, and Pesto, create an herbaceous, savory flavour that compliments the tangy sweetness of the lemon and watermelon. All of this comes together to make the perfect summertime meal in under 20 minutes!
Using the Hedessent flavourings to marinate the feta is one of my favourite things. For this recipe, it brings a balanced flavour of Gorgonzola and Celery in a more subtle yet complex way, without ever biting into any polarizing ingredients.  The Pesto gives flavour but keeps the salad looking clean and is so much more convenient and cost effective to have on hand. – Jackie
Whether you make this salad and eat it right away, serve it as a side, or have it as a meal, this is definitely a summer dish you can enjoy all season, for any reason!
Watermelon Spinach Salad
Ingredients
1

medium-sized watermelon

1

bag

baby spinach

225

g

block feta cheese

- approx. 1 cup or 1/2 pound

1

lemon, squeezed

1

avocado

1/2

red onion, chopped

1/2

cup

olive oil

1/4

cup

balsamic vinegar

1/4

fresh dill, chopped

15

drops

Hedessent Gorgonzola Flavouring

15

drops

Hedessent Celery Flavouring

15

drops

Pesto Flavouring

1

tsp

salt
Instructions
Mix together olive oil, Hedessent flavourings, and lemon juice in a small bowl. Add feta cheese cut in ½ inch chunks. Let marinate while composing your salad platter.

Chop up watermelon into 1½ inch cubes, about 8 cups. Spread out spinach leaves on a large platter and place watermelon chunks over spinach. Thinly slice onion and finely chop dill and place over watermelon. Top salad with feta chunks.

Cut avocado into cubes and add to feta marinade. This keeps the avocado from turning brown. Place avocado on salad and drizzle marinade over everything.

Finish with a drizzle of balsamic vinegar. Sprinkle with salt. Enjoy!
Notes
Pro Tip #1:
Serving this salad on a platter versus a bowl makes for a beautiful and bright presentation. It's also a great make-ahead salad that travels well.
Pro Tip #2: 
Jackie used dill in this salad, but you could substitute mint, parsley, or basil if you prefer.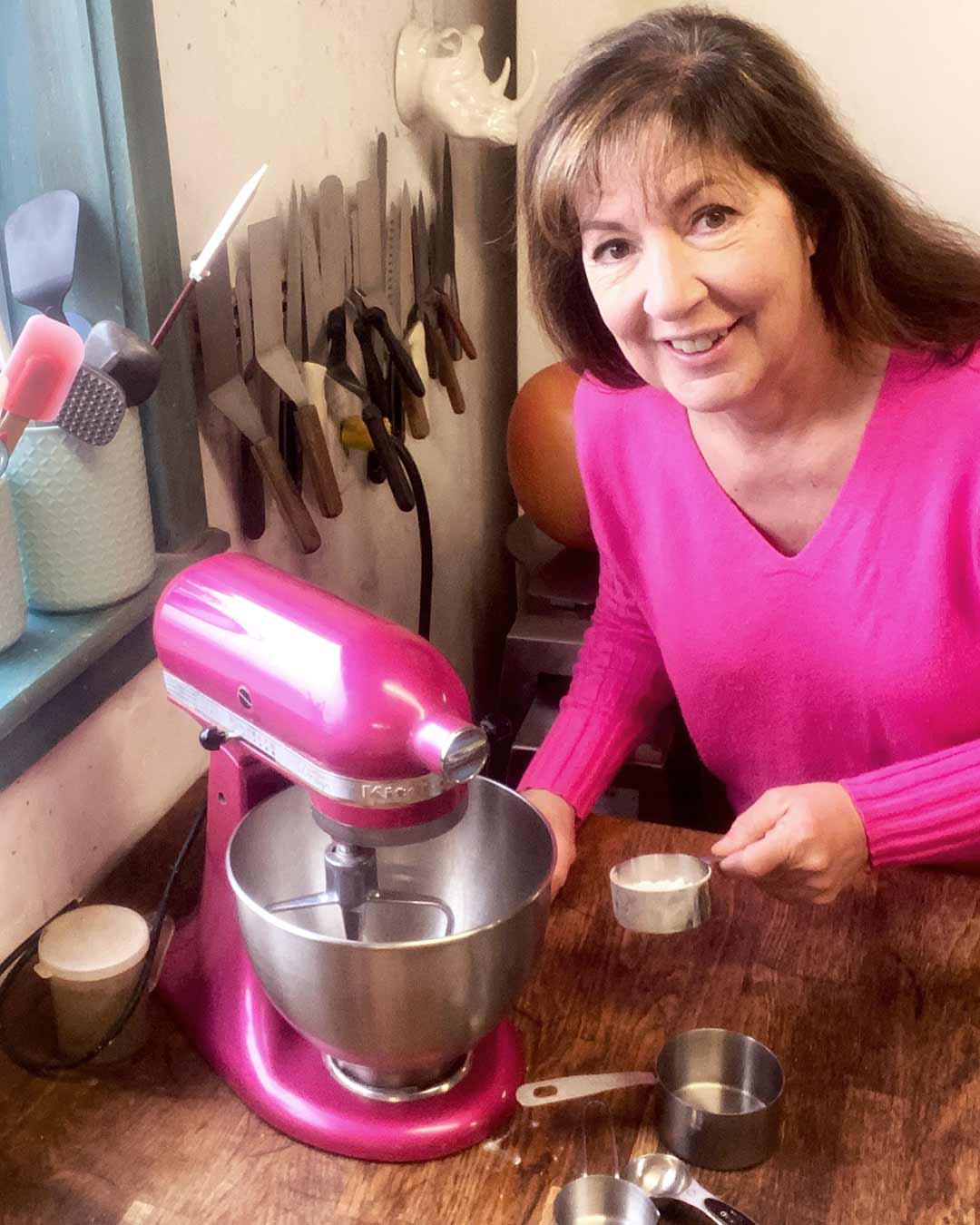 Meet Jackie
Following a career as a professional artist and interior designer, Jackie Troup and her husband moved to his family fruit farm in Jordan, Ontario. Cooking and baking had alway been a passion and hobby, and the new scenery of farm and garden was a wealth of inspiration – one that kickstarted a new path for Jackie and her love for food. Though not classically trained, she was a voracious reader of all things baking and cooking, and in 2009, Jackie started Blossom Bakery, a small wholesale company selling to local stores, farm stands, and farmers markets. The bakery went on to win the Town of Lincoln Small Business Award and Shannon Passero's Women in Business Award.
Jackie's love of developing recipes and creative flair turned to obsession while trying to meet the needs of the ever-growing vegan and gluten communities. The bakery has become a place where everyone can enjoy a tasty treat to suit any palate. Now a seasonal retail bakery on her family farm, customers can see where their food is made and what inspired their creation.
Not sure where to start?
Check out our kits, which include six flavours plus a recipe card for some added inspiration!
More Quick and Easy Recipes
View More Recipes