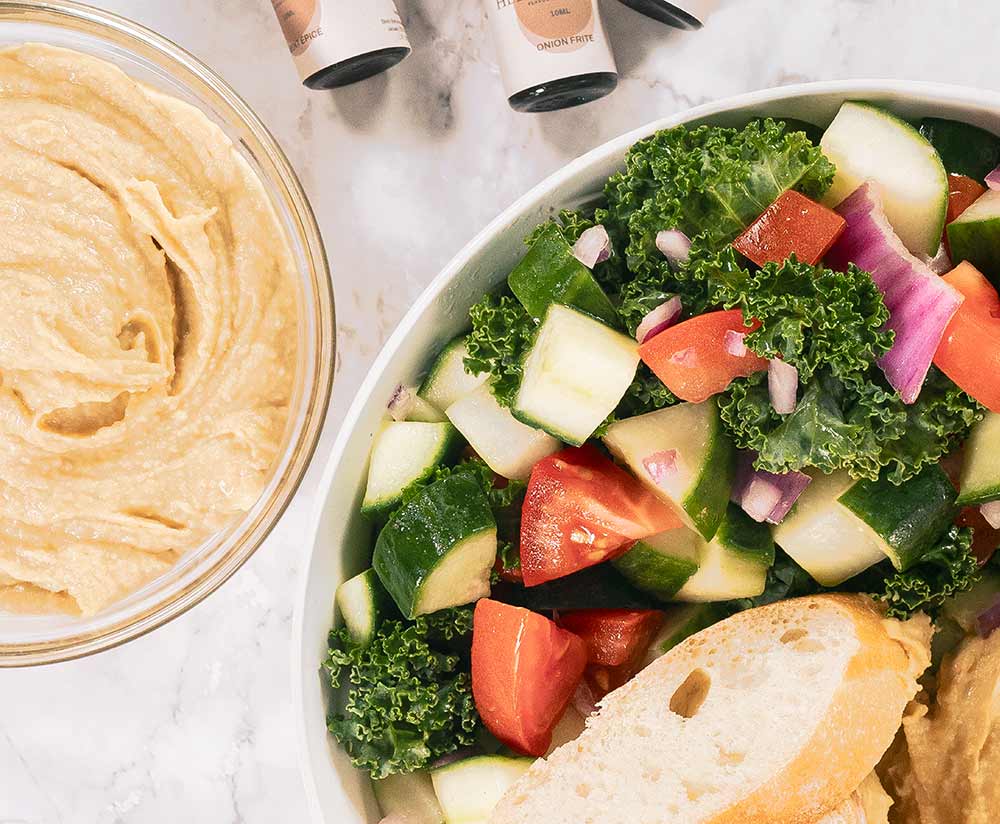 A fresh salad that's not only high in fiber and protein but bursting with flavour too? Yes, please!
The only thing better than hummus is homemade hummus, packed with flavour among all the amazing health benefits of chickpeas! Our version is smooth and creamy, packed full of Garlic flavour to give this the traditional taste you'd expect from a good hummus.
Eat it alone as a dip with pita chips or french bread, or add it to a dark green salad as we've done below for a light, fresh, and satisfying meal!
Hummus and Cucumber Kale Salad Recipe
Ingredients
Hummus
2

cans

chickpeas, well-drained

1/2

cup

tahini

1/4

cup

olive oil

1

lemon

squeezed

1/2

tsp

salt

18

drops

Hedessent Green Olive Flavouring

12

drops

Hedessent Garlic Flavouring

- available in Savory Starter kit

10

drops

Hedessent Fried Onion Flavouring 

- available in Savory Starter kit

10

drops

Hedessent Celery Flavouring
Cucumber Kale Salad
6

cups

chopped kale

- remove tough stems 

1

English cucumber 

1

medium tomato

1/2

red onion

1/2

cup

olive oil

1/2

tsp

salt

1/4

tsp

black pepper

10

drops

Hedessent Garlic Flavouring

10

drops

Hedessent Chili Hot Flavouring 

- available in Savory Starter Kit
Instructions
Hummus
Place drained chickpeas in a food processor and blend until coarsely ground. Scrape down the bowl and add tahini, salt, lemon juice, and Hedessent flavourings.

Blend again, scraping down the bowl. If hummus is too thick, add ⅛ cup water at a time until desired consistency (you shouldn't need more than ½ cup water), and blend for at least 2 minutes to make a very smooth mixture.

Decant into bowl and top with olive oil. Refrigerate.
Salad
Cut cucumber and tomato into approximately one-inch chunks and place in bowl. Finely chop the red onion and add to bowl. Add salt and pepper.

In a small jar, mix olive oil with Hedessent Chili Hot and Garlic flavourings. Drizzle over cucumber mixture, reserving a couple of tablespoons for kale.

Massage kale with your hands to soften tough leaves. Toss with remaining oil mixture.Sprinkle with salt and pepper.
Assembly
On a large platter, arrange a bed of kale. Place the cucumber mixture on top. Drizzle any remaining juices over the salad. Place a large dollop of hummus on top or on the side. Serve with French bread or pita chips.
Notes
Pro Tip #1:
This dish is a great make-ahead quick meal or starter course. Prepare the components ahead of time and compose the salad right before serving. You may have leftover hummus, and it keeps for a week in the fridge.
Alternative Flavour Options:
Swap the Fried Onion flavour for Hedessent Soffrito Flavouring for a more mild and sweet onion flavour.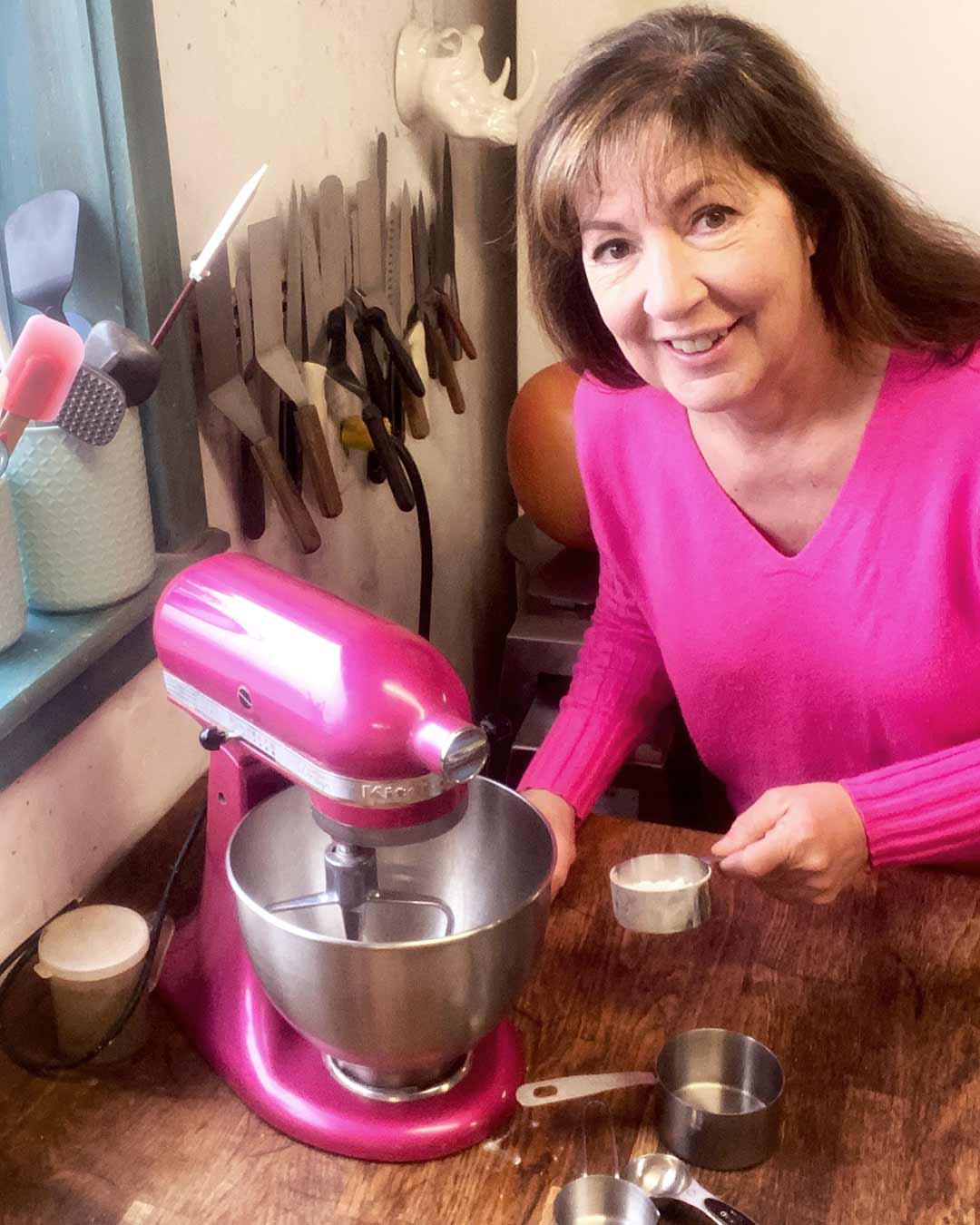 Meet Jackie
Following a career as a professional artist and interior designer, Jackie Troup and her husband moved to his family fruit farm in Jordan, Ontario. Cooking and baking had alway been a passion and hobby, and the new scenery of farm and garden was a wealth of inspiration – one that kickstarted a new path for Jackie and her love for food. Though not classically trained, she was a voracious reader of all things baking and cooking, and in 2009, Jackie started Blossom Bakery, a small wholesale company selling to local stores, farm stands, and farmers markets. The bakery went on to win the Town of Lincoln Small Business Award and Shannon Passero's Women in Business Award.
Jackie's love of developing recipes and creative flair turned to obsession while trying to meet the needs of the ever-growing vegan and gluten communities. The bakery has become a place where everyone can enjoy a tasty treat to suit any palate. Now a seasonal retail bakery on her family farm, customers can see where their food is made and what inspired their creation.
Not sure where to start?
Check out our kits, which include six flavours plus a recipe card for some added inspiration!
More Quick and Easy Recipes
View More Recipes