It's no surprise the world's most popular dressing is Ranch.
There's something soothing and comforting in all that smooth, creamy, tangy goodness. But have you ever gone to the store looking for that perfect bottled Ranch dressing – you know, the easy kind you don't have to make yourself – and end up disappointed? Yeah. Us too. 
Nothing beats homemade. So if you're going to have to make it yourself anyway, why settle for something out of a packet?  
We are so excited to share with you our own take on the traditional fan fave. This Ranch Inspired recipe is a fun new twist on the every-day condiment, while still holding true to all the things you love and expect from a good Ranch. But it's a little zestier. A little tangier. That something extra you never knew you were missing.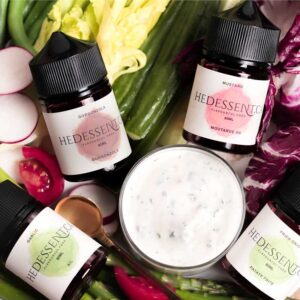 This recipe features four Hedessent flavours: 
Our Gorgonzola Flavour is the perfect happy compromise to blue cheese – the same depth of flavour without the blue or crumbles. 
Because every Ranch should have a smooth and creamy texture, our Fried Onion Flavour is the perfect addition – all the flavour with none of the tears or bite.  
And similarly, our Garlic Flavour adds all of the aromatics while skipping the sticky fingers from raw garlic cloves, or the grit from powdered garlic. Liquid flavouring means no dicing, no cooking, no crunchy bits… but even better – a lot of time saved. 
And for a little extra bite we added our Mustard. If you would prefer a more mild dressing swap the mustard for our yogurt. 
Check it out
Ranch Inspired Dressing or Dip
Ingredients
1/2

cup

sour cream 

1/2

cup

mayonnaise

1/3

cup

buttermilk or plain yogurt

90

drops

Hedessent Gorgonzola Flavour

40

drops

Hedessent Fried Onion Flavour

15

drops

Hedessent Mustard Flavour

5

drops

Hedessent Garlic Flavour

3

tbsp

chopped parsley

2

tbsp

chopped chives or green onions

Pinch

Salt and pepper
For Wedge Salad
1

head

iceberg lettuce

2-3

strips

bacon

crumbled
Instructions
In a small bowl, stir together the sour cream, mayonnaise, and buttermilk. Add the Gorgonzola, Onion, Mustard and Garlic flavouring and stir to combine. Stir in parsley, chives, salt and pepper. Cover and chill. 

To serve on a wedge salad, halve lettuce and cut it into wedges or thick rounds. Spoon over the dressing and sprinkle with fresh pepper and bacon. 
Notes
Flavour Tip: Stir in chopped pickles for a quick tartar sauce for any fish dish from fish and chips to baked salmon.
Our mustard flavour has a bite, so if you are looking for a mild version of this dressing swap out Mustard
flavour
for Yogurt
flavour
.