This Veggie Ceviche is a perfect game-day treat!
Looking for some fresher options for game day other than wings and hot dogs? Then you've got to try our Veggie Ceviche! This refreshing ceviche is so versatile and flavourful, it can be served as an appetizer, side dish, or as a topper over other foods! While ceviche is most commonly made with raw fish, we've put a vegan spin on this recipe and left out the seafood. The end result is an easy, delicious marinade perfectly suited to vegetables that can be served in a variety of ways!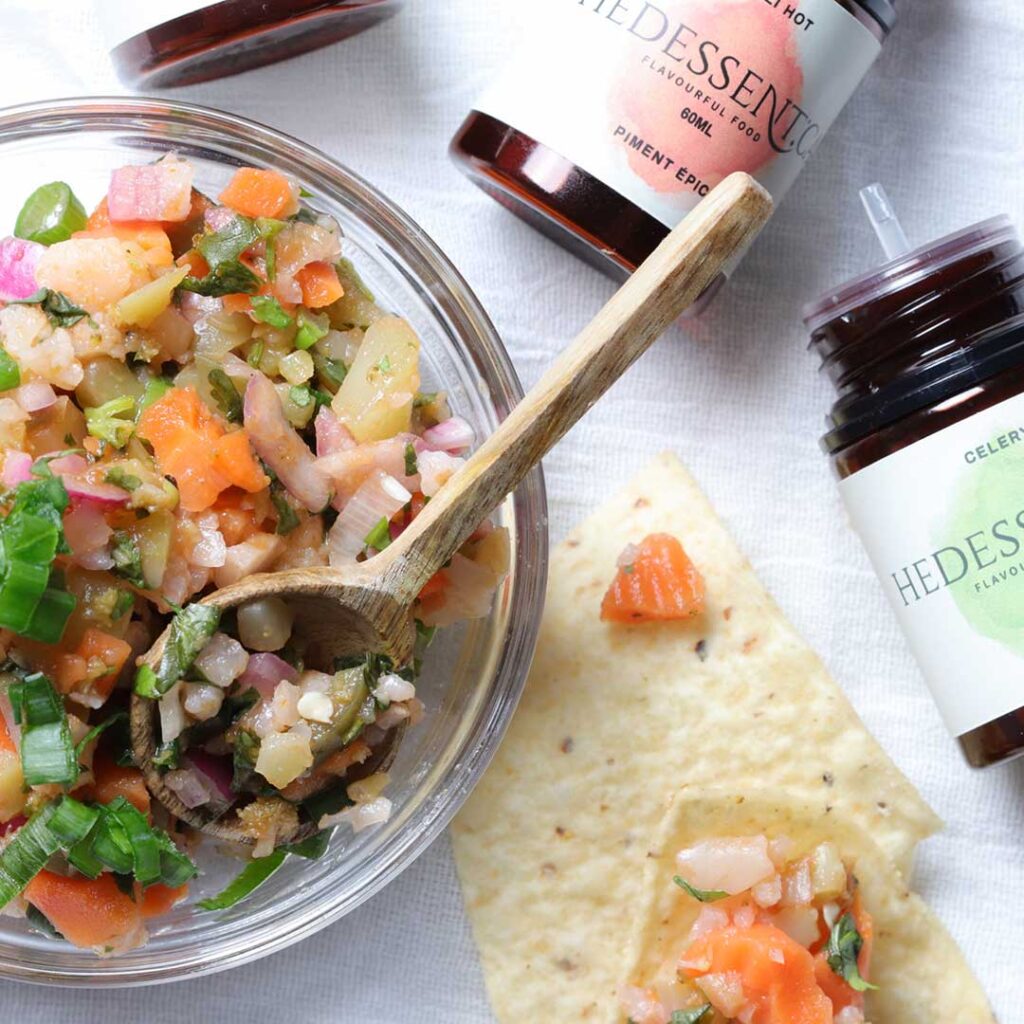 Mix your ceviche in a salad, spoon over fish or other meats, or eat it as-is with a few tortilla chips. This whole dish comes together in only minutes, thanks to frozen vegetables and our convenient liquid flavouring. The bright, briny mixture of vinegar and lime adds a zest of fresh flavour to make this ceviche an easy, tasty choice.
We think Jackie says it best:
"I love using the Hedessent flavourings in this recipe for 2 reasons. First, they are so easy to use and way more fresh-tasting than dried spices. Second, the flavour mixes evenly throughout the dish, so you get all the flavours in every bite, versus only biting into a chunk of celery or hot pepper."
No matter how or when you decide to serve it, our Veggie Ceviche is perfect for game day, a picnic, or any day that ends in Y!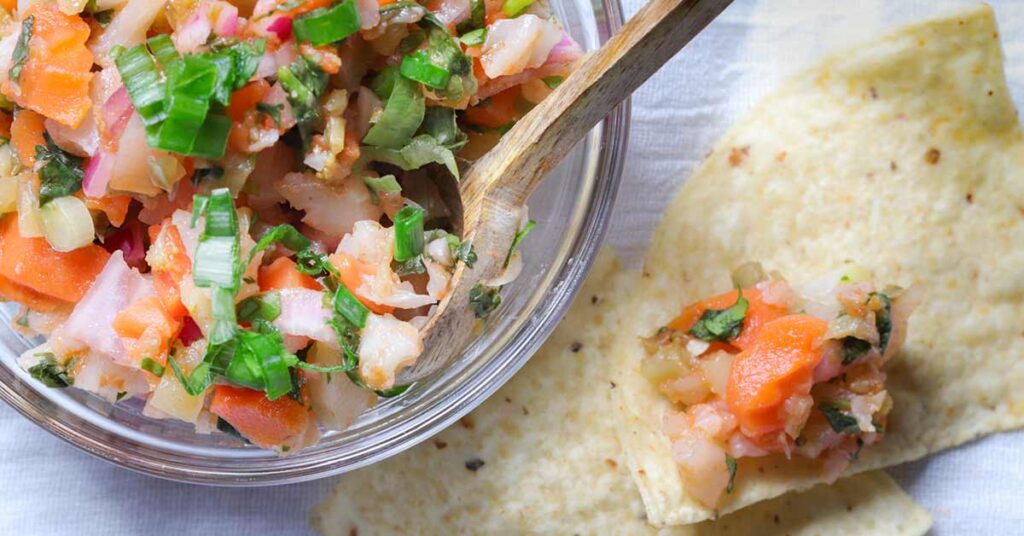 Veggie Ceviche Recipe
Ingredients
1/2

bag

California Mix frozen vegetables 

1/2

red onion

1/3

cup

cilantro

1/4

cup

ketchup 

1/4

cup

chopped pickled hot peppers 

2-3

tbsp

lime juice

2

tbsp

rice wine vinegar 

1

tbsp

sugar

1

tsp

salt

12

drops

Hedessent Celery Flavouring

8

drops

Hedessent Garlic Flavouring

8

drops

Hedessent Chili Hot Flavouring 
Instructions
Thaw half a bag of frozen veggies in a bowl of warm tap water.

While that's thawing, finely chop onion and cilantro.

Drain vegetables and blot dry with a paper towel. Add all remaining ingredients to a serving bowl. 

Enjoy with tortilla chips. Also great with cold shrimp or as a topping for fish, grilled tofu, or chicken.
Flavour Twist
For an Asian version that's awesome on sushi rice, add: 18 drops Hedessent Mustard Flavouring, 10 drops Hedessent Ginger Flavouring, 4" cucumber, chopped, 1 small tin water chestnuts, chopped Omit pickled hot peppers. The Mustard Flavour has a bit of a kick and is a great substitute for other spicy ingredients like wasabi. Using the Ginger Flavour speeds up prep time by not having to peel and grate fresh ginger.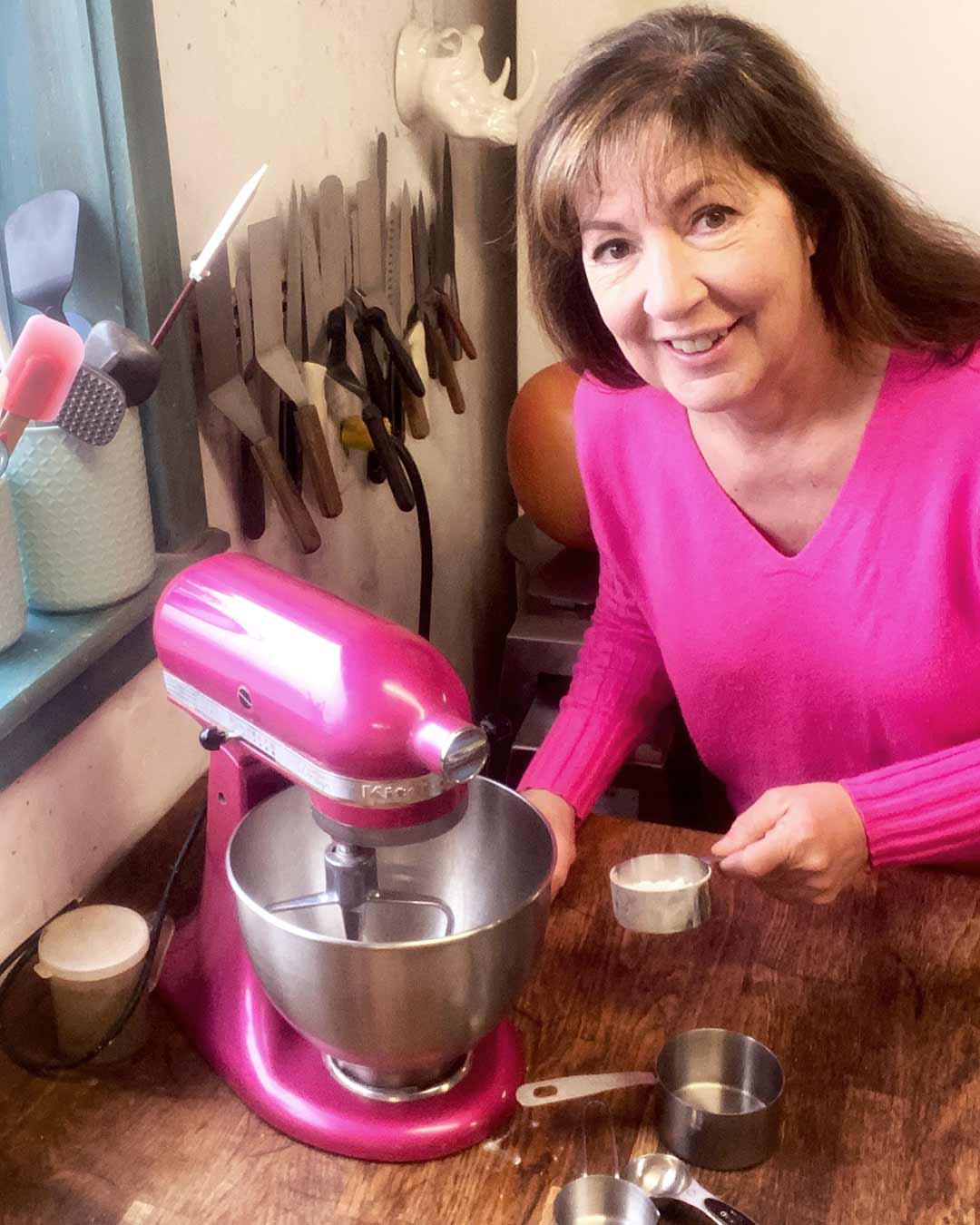 Meet Jackie
Following a career as a professional artist and interior designer, Jackie Troup and her husband moved to his family fruit farm in Jordan, Ontario. Cooking and baking had alway been a passion and hobby, and the new scenery of farm and garden was a wealth of inspiration – one that kickstarted a new path for Jackie and her love for food. Though not classically trained, she was a voracious reader of all things baking and cooking, and in 2009, Jackie started Blossom Bakery, a small wholesale company selling to local stores, farm stands, and farmers markets. The bakery went on to win the Town of Lincoln Small Business Award and Shannon Passero's Women in Business Award.
Jackie's love of developing recipes and creative flair turned to obsession while trying to meet the needs of the ever-growing vegan and gluten communities. The bakery has become a place where everyone can enjoy a tasty treat to suit any palate. Now a seasonal retail bakery on her family farm, customers can see where their food is made and what inspired their creation.
More Quick and Easy Recipes
View More Recipes