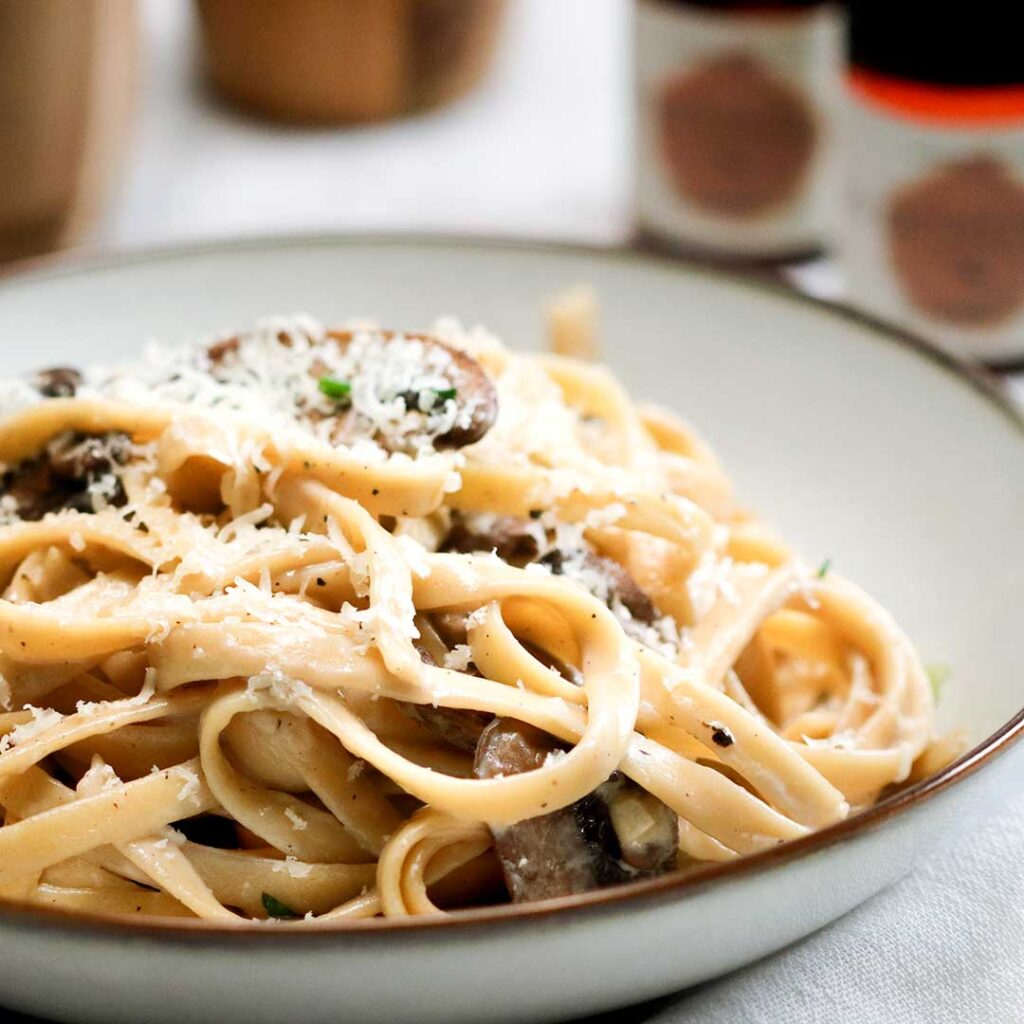 This Mushroom Carbonara is rich and creamy and full of flavour.
Dig into this creamy, feel-good Mushroom Carbonara for a satisfying meal any time! Our vegetarian twist on a beloved Italian classic doesn't skimp on any flavours of a traditional carbonara. Oven-baked mushrooms and our Hickory Bacon flavouring infuse a savory, meaty taste and texture, while our Cooked Egg Yolk eliminates any worry of scrambling eggs in the pan. The end result is a rich, delicious pasta that's easy to make and is sure to be a new favourite! Bon Appetit!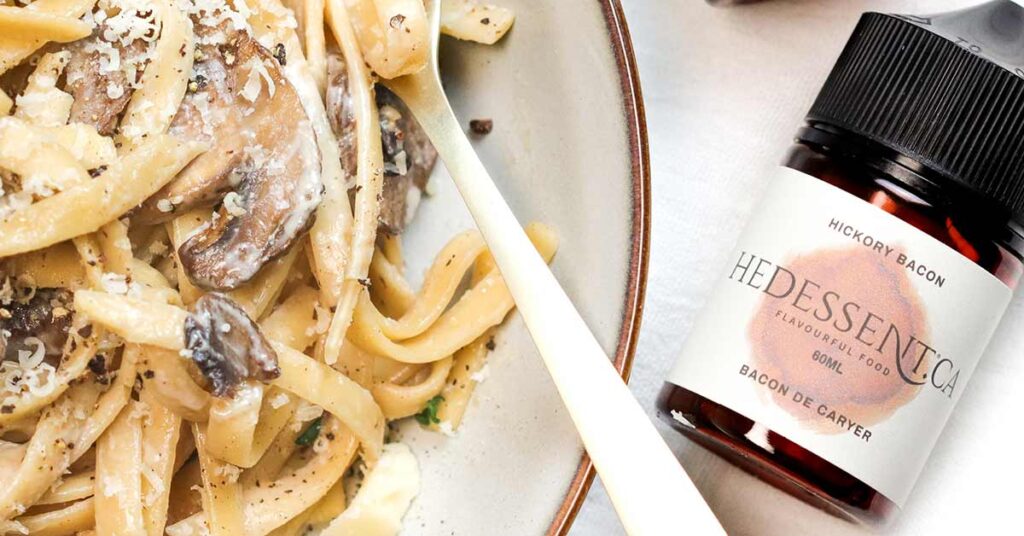 Mushroom Carbonara Recipe
Ingredients
2

pkg

sliced mushrooms

227g per package

225

g

pasta linguine or penne work best

- linguine or penne work best

1/2

cup

10% cream

- or dairy alternative

1/2

tsp

pepper

1/2

cup

Romano cheese

1/4

cup

olive oil

3

cloves

garlic, finely chopped

3

tbsp

butter

1

tsp

salt

25

drops

Hedessent Hickory Bacon Flavouring 

10

drops

Hedessent Cooked Egg Yolk Flavouring 

Pinch

Salt/Pepper to taste
Instructions
Preheat oven to 375°. Spread out mushrooms on a baking tray and drizzle with olive oil. Sprinkle with salt. Bake for 15 minutes.

Take the tray out of the oven and drip Hedessent Hickory Bacon flavour over mushrooms and toss. Spread out on tray again. Return to the oven for another 15 minutes. Mushrooms should look browned with most of the moisture cooked out.

Heat well-salted water in a large pot for pasta. Meanwhile, melt butter in a large pan on medium-low, add mushrooms and garlic. Sauté.

Cook pasta in boiling water a minute short of package directions. Reserve 1 cup pasta water for sauce and then drain pasta.

Add pasta to the pan and toss. Stir Hedessent Cooked Egg Yolk flavouring into cream. Pour cream over pasta and toss. Add some of the pasta water to loosen the sauce. Season with pepper and additional salt if needed. Turn off heat and toss in cheese. Enjoy!
Notes
Pro Tip:
If you are substituting your butter, cream and cheese to make this dish vegan friendly, we suggest replacing the Romano cheese with nutritional yeast and add 5-8 drops of Hedessent Parmesan Flavour. Infuse butter flavour by adding
Hedessent Butter Flavouring
. Start with 5-10 drops, taste, and adjust as needed.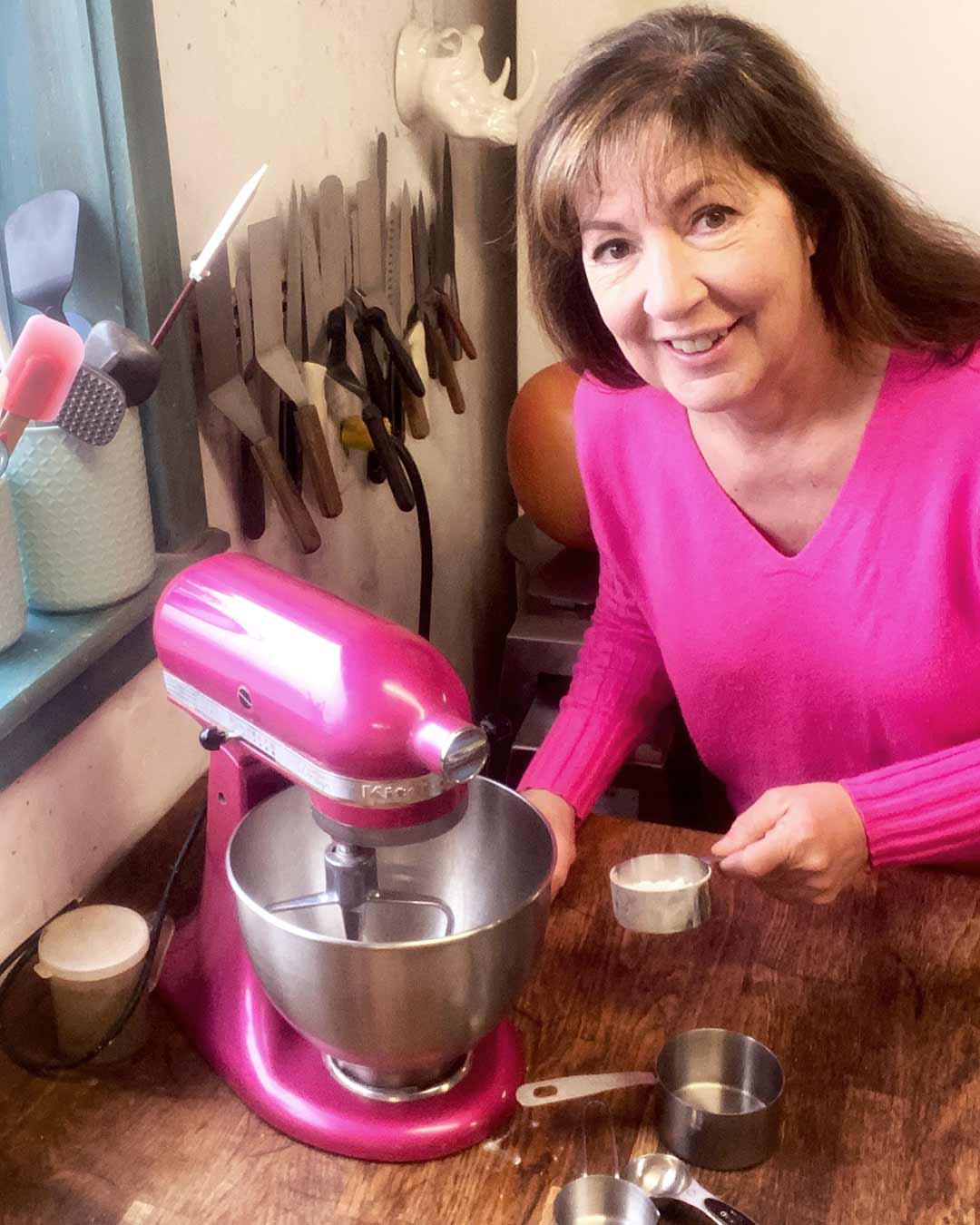 Meet Jackie
Following a career as a professional artist and interior designer, Jackie Troup and her husband moved to his family fruit farm in Jordan, Ontario. Cooking and baking had alway been a passion and hobby, and the new scenery of farm and garden was a wealth of inspiration – one that kickstarted a new path for Jackie and her love for food. Though not classically trained, she was a voracious reader of all things baking and cooking, and in 2009, Jackie started Blossom Bakery, a small wholesale company selling to local stores, farm stands, and farmers markets. The bakery went on to win the Town of Lincoln Small Business Award and Shannon Passero's Women in Business Award.
Jackie's love of developing recipes and creative flair turned to obsession while trying to meet the needs of the ever-growing vegan and gluten communities. The bakery has become a place where everyone can enjoy a tasty treat to suit any palate. Now a seasonal retail bakery on her family farm, customers can see where their food is made and what inspired their creation.
More Recipes You've Got to Try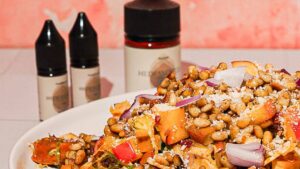 With the holidays fast approaching, we decided to call in a favour from one of...
View More Recipes