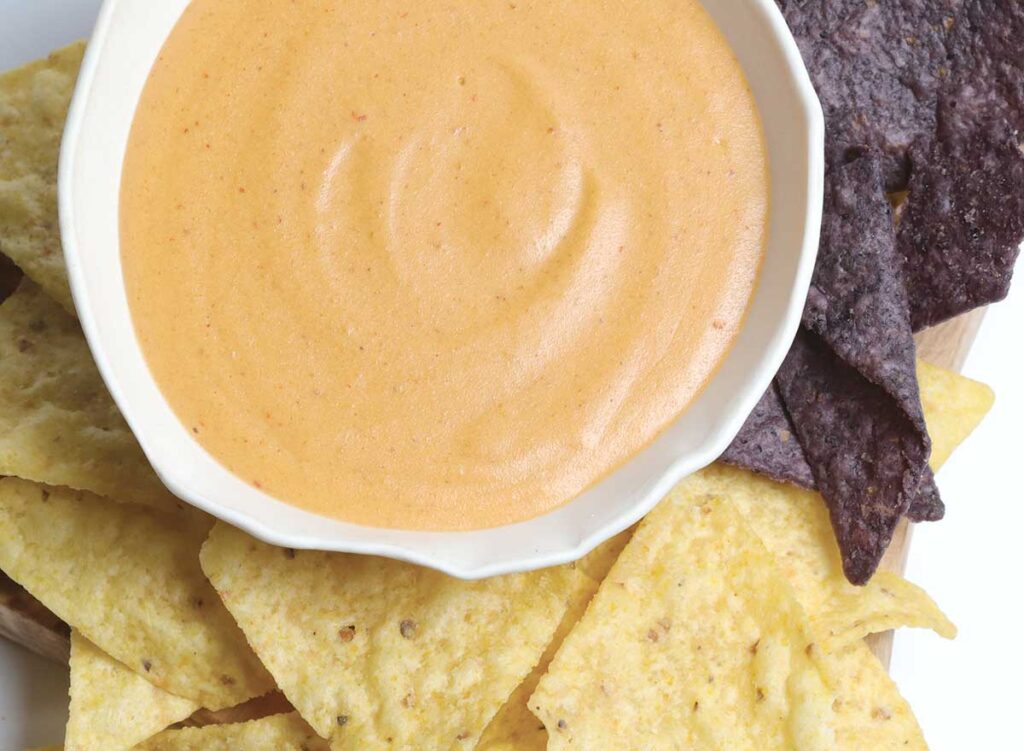 We know there are a lot of different ways to go about making your own Vegan Nacho Cheese Sauce.
And we would be remiss if we didn't offer all of our plant-based friends an option of how they can easily infuse amazing depth of flavour into their beloved cheese sauces. When you read the ingredient list, it may look like a lot, but the ingredients selected lend authenticity to the mouth-feel and colour you'd expect in a cheese sauce. 
We then tie all these flavours together with the easy addition of our Fried Onion. This flavour is a MUST HAVE for any savory dish – it is so good, but even better, it is so versatile. It elevates and complements other savory flavours while eliminating the eye-watering step of chopping and frying raw onions. With no lingering odors left in your kitchen, it's an easy slam dunk for your next pre-game party!
Vegan Nacho Cheese Sauce
Ingredients
1

cup

roasted cashews

1

cup

almond milk

3/4

cup

water

divided

1/2

medium russet potato (approx 180g/6oz)

peeled and thinly sliced

1/4

cup

vegetable oil

3

large cloves garlic

halved

1

chipotle pepper in adobo sauce

2

tsp

cider vinegar

1

tsp

kosher salt

1

tsp

ground cumin

1

tsp

sweet smoked paprika

1

tsp

granulated sugar

1/2

tsp +20 drops

Hedessent Fried Onion Flavour
Instructions
Heat oil in a large skillet over medium heat. Add potatoes and garlic and cook for 3 minutes. Add chipotle, salt, cumin, and paprika and cook for 1 minute.

Stir in cashews and cook for 2 minutes. Pour in almond milk and ½ cup water and cook until potatoes are tender, about 5 minutes.

Scrape into a blender. Whirl until smooth, adding the remaining ¼ cup water if mixture is too thick. Add vinegar, sugar, and Fried Onion flavour. Pulse to combine.

Scrape into serving bowl and serve with tortilla chips.
Video
Notes
Pro Tip #1:

Refrigerate for up to 3 days in a covered container. Bring to room temperature before serving or heat in microwave until just hot.
Pro Tip #2:

Serve over baked potatoes, sweet potato fries, charred broccoli, cauliflower steak, drizzled on a vegan pizza, or in macaroni and cheese. 
Note: If you are new to cooking with flavour, we always recommend trying a recipe as-is before you alter it. If you're looking to add some of our other savory flavours to this recipe, like our
Cheddar
or
Parmesan
, remember only a few drops will do. These are concentrated flavours, so always start lightly, taste, and adjust to your liking. 
Happy Cooking!
Simply Savory
OTHER WAYS YOU CAN USE THESE FLAVOURS
VIEW MORE VEGAN RECIPES