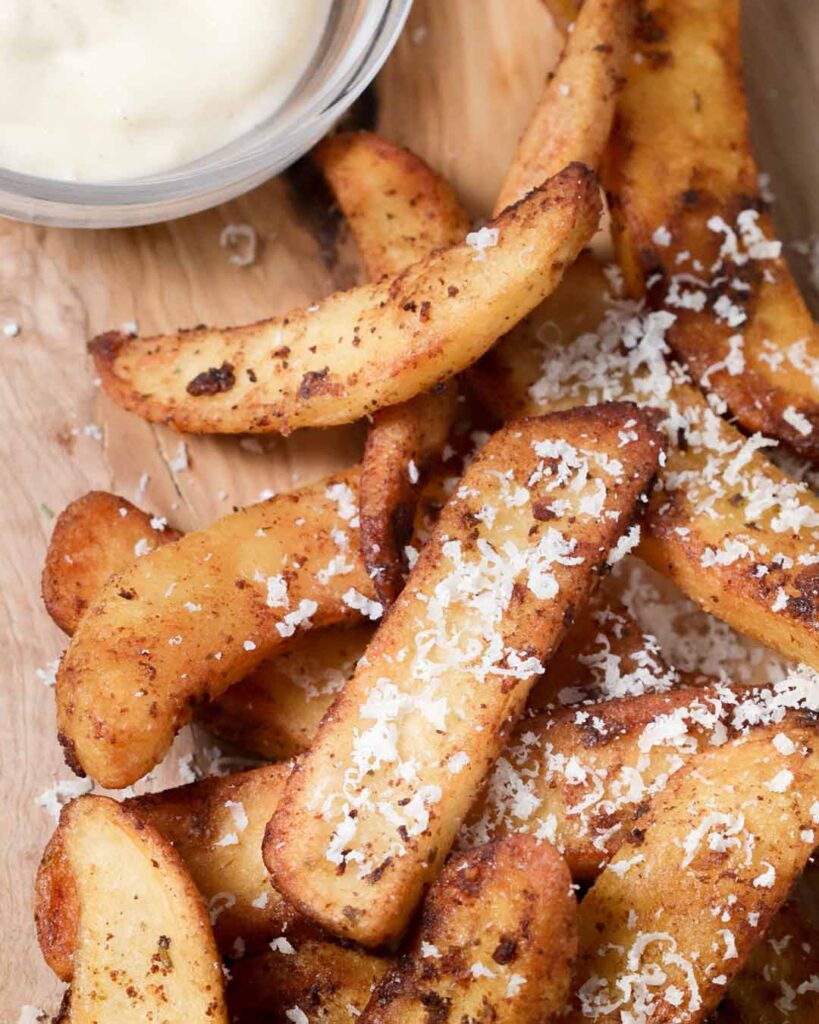 A savory twist on a game-day classic, our Truffle Fries are sure to be a win!
The big game is almost here, so let's kick off your Super Bowl party right! Along with the usual assortment of burgers, hot dogs, chips, and beer, elevate a game-day classic to the next level with our Truffle Fries!
Our Black Truffle drizzle is your MVP of the day, playing alongside sauteed mushrooms to add an earthy texture to your fries.  The mushrooms are optional, so you can always let them sit on the sidelines, but they help carry the Black Truffle flavouring and add a meatiness to the dish.
Made with frozen fries in an air-fryer, or in the oven if doing larger batches, this is an easy addition to your spread that's so good, you'll hope the game goes into overtime, just so you can eat longer!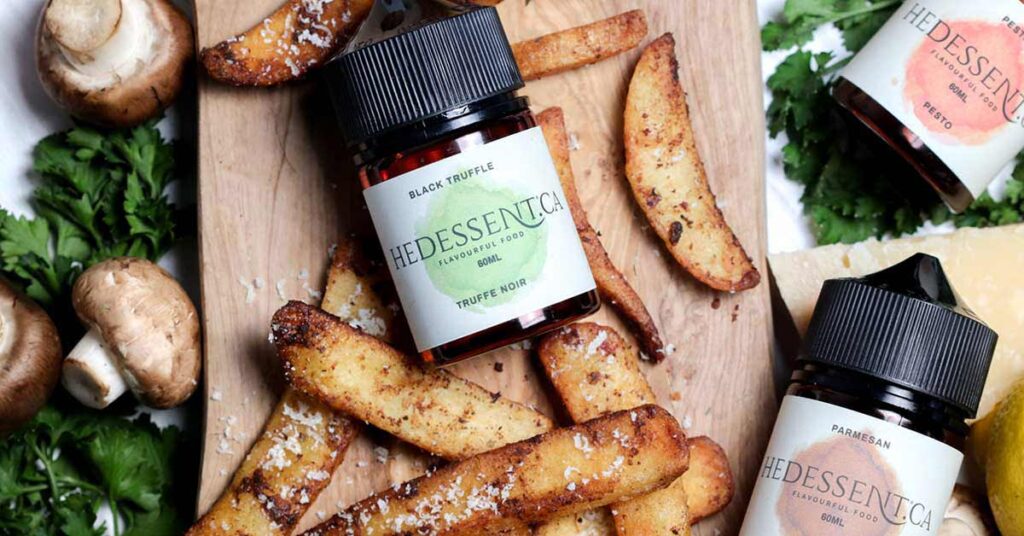 Truffle Fries Recipe
Ingredients
1

kg

package frozen French fries

- bistro or crinkle cut fries

454

g

package mushrooms

- optional

1

cup

mayonnaise 

1/2

cup

olive oil

- avocado oil works too

1/2

cup

Parmesan cheese

- finely grated

1/4

lemon squeezed

- approximately 4 tbsp

1 1/2

tsp

salt

1

tsp

dried parsley

30

drops

Hedessent Black Truffle Flavouring

- 15 drops for mayo, 15 drops for oil

10

drops

Hedessent Pesto Flavouring
Instructions
Preheat Air Fryer or oven to 375F. If using, roughly chop mushrooms into ½-inch pieces and place in large pan heated to medium low. Sprinkle with ½ teaspoon salt.

In a small bowl or glass measuring cup, pour olive oil, parsley, 15 drops Black Truffle flavouring, and 10 drops Pesto flavouring. Drizzle 2 tablespoons flavoured oil over mushrooms (if making). Cook until they are browned and release most of their moisture, stirring occasionally, approximately 15-20 minutes. You are looking for them to be quite dry in the pan and feel a little chewy.

While mushrooms are cooking, place fries in a large bowl and toss with remaining flavoured olive oil. Air-fry for 10mins. If baking in the oven, place on a large baking tray in a single layer and bake for 12 minutes.

While fries are cooking, Combine mayonnaise, remaining 15 drops Black Truffle flavouring, ½ teaspoon salt, pepper, lemon juice, and half of the grated Parmesan cheese in a small bowl.

After 10-12 minutes of cooking fries, or when fries feel slightly crisp but not browned, remove from air-fryer or oven, toss fries in bowl with half of truffle mayo mixture. Place back in air-fryer or oven for an additional 5-8 minutes depending on how crispy you like your fries.

Place fries on a platter topped with chewy truffle mushrooms (if using) and remaining cheese. Serve remaining mayonnaise on the side as a dip or drizzled on top.
Video
Notes
PRO TIP #1: 

To make this recipe vegan, replace cheese with 1 tablespoon nutritional yeast and add 10 drops Hedessent Parmesan Flavour to vegan mayonnaise.
PRO TIP #2: 
You can make these an hour or 2 ahead, leave on the pan, and reheat in the oven for 5 minutes.
PRO TIP #3: 

Recipe can easily be halved or doubled, as needed. 
PRO TIP #4: 
This recipe feeds a few people, so if you are using a small air-fryer, it will be done in 2 batches.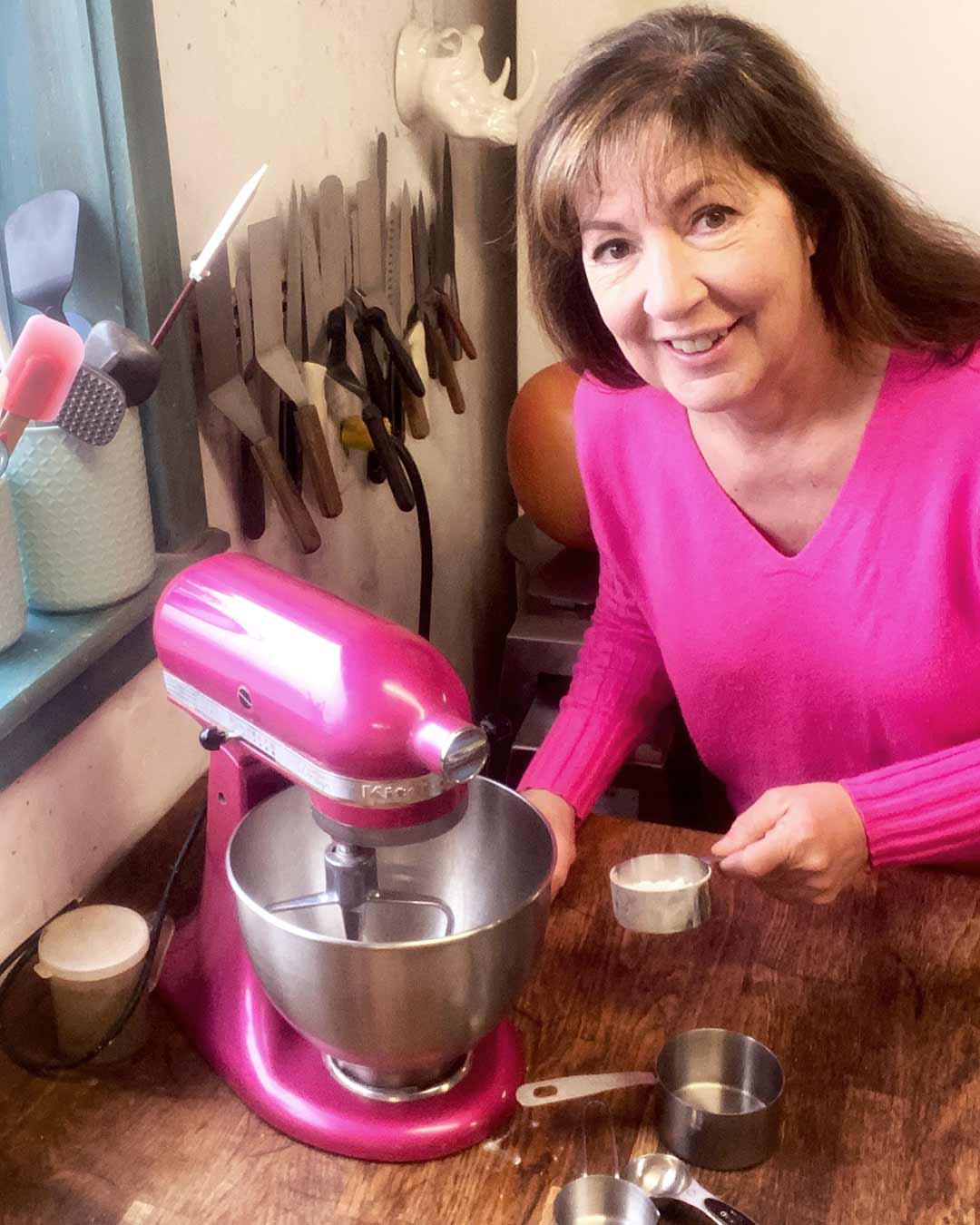 Meet Jackie
Following a career as a professional artist and interior designer, Jackie Troup and her husband moved to his family fruit farm in Jordan, Ontario. Cooking and baking had alway been a passion and hobby, and the new scenery of farm and garden was a wealth of inspiration – one that kickstarted a new path for Jackie and her love for food. Though not classically trained, she was a voracious reader of all things baking and cooking, and in 2009, Jackie started Blossom Bakery, a small wholesale company selling to local stores, farm stands, and farmers markets. The bakery went on to win the Town of Lincoln Small Business Award and Shannon Passero's Women in Business Award.
Jackie's love of developing recipes and creative flair turned to obsession while trying to meet the needs of the ever-growing vegan and gluten communities. The bakery has become a place where everyone can enjoy a tasty treat to suit any palate. Now a seasonal retail bakery on her family farm, customers can see where their food is made and what inspired their creation.
Not sure where to start?
Check out our kits, which include six flavours plus a recipe card for some added inspiration!
More Quick and Easy Recipes
View More Recipes