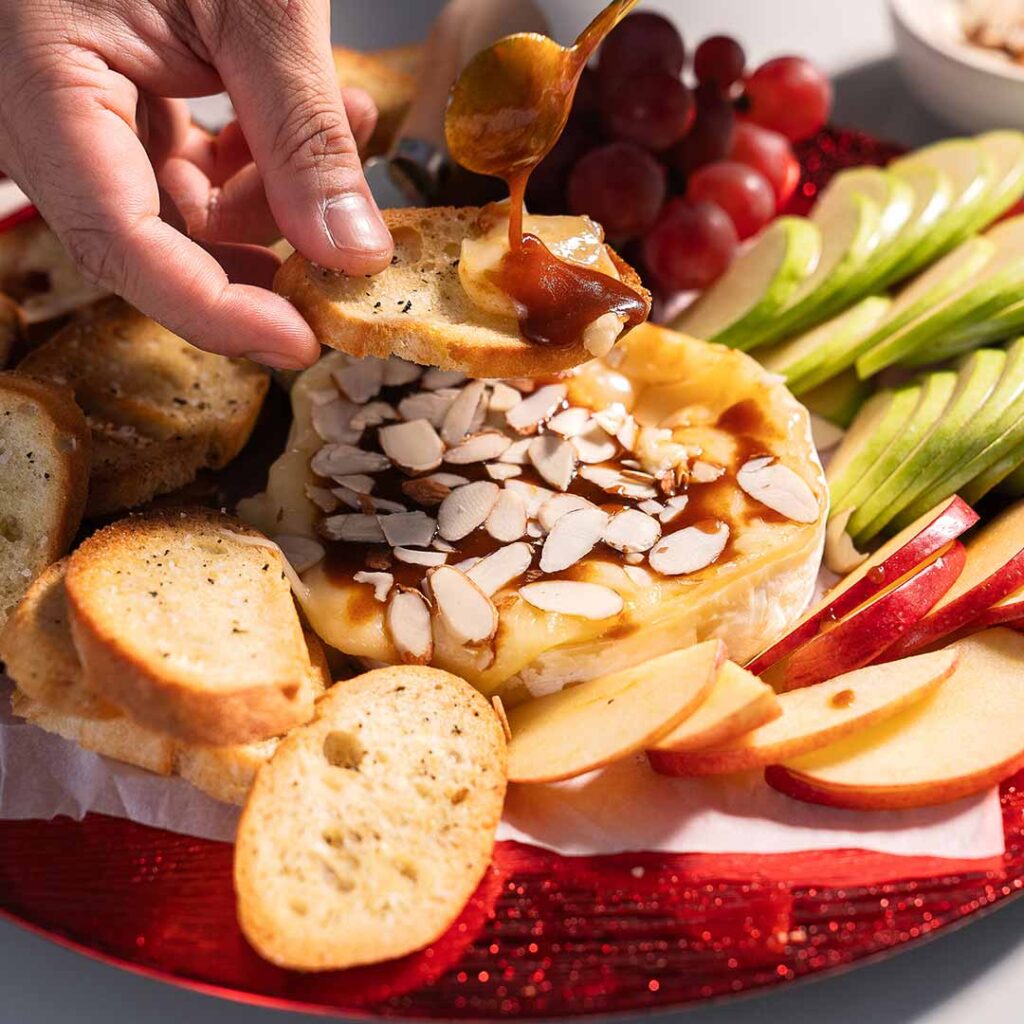 Spice things up this holiday with this tantalizing sweet treat!
What comes to mind when you think of holiday feasts? Turkey, ham, and dressing, of course, but also – sweets! Add a little sizzle to your drizzle this season with a spicy kick to accompany the ooey, gooey richness of caramel. It's smooth and sweet, with a little kiss of heat, and perfect to temper the sugary goodness of your desserts and appetizers.
Spice things up this holiday with this tantalizing sweet treat! It's sure to make your festivities unforgettable and unbelievably delicious!
Spicy Caramel Drizzle
Recipe by Jackie Troup | Blossom Bakery
Ingredients
Caramel Drizzle
1

cup

sugar

1/2

cup

heavy cream

6

tbsp

butter

25

drops

Hedessent Chili Hot
For Plating (optional)
1

medium wheel Brie or Camembert cheese

2-3

apples or pears sliced

1/2

cup

roasted salted almonds, roughly chopped
Instructions
How to Make Spicy Caramel

Pour sugar into a medium saucepan and place on medium-low heat. Slowly stir sugar with a heat-proof spoon. Sugar will melt gradually. Keep stirring until sugar is melted and turns a golden caramel colour.

Remove from heat and carefully pour in cream. The mixture will bubble up and steam, so be careful to avoid it.

Put back on low heat and stir until sugar dissolves. Whisk in butter one tablespoon at a time until caramel is well combined. Add Chili Hot Flavour Drops. Cool caramel until room temp or until ready to assemble the dish.
Assembly
To make platter, slice off the top rind of the Brie cheese. Leave the side and bottom rinds. Place cheese in the centre of a large platter.

Spoon chili caramel sauce over brie and then add chopped almonds.

Arrange fruit slices around the cheese and caramel. Enjoy!
Video
Notes
Safety Note:
Melted sugar is crazy hot. Do not be tempted to taste it, and be careful not to splash - it's like lava. Any tasting should be reserved until after the finished caramel has completely cooled. 
Flavour Tip:

The spiciness of the caramel can be adjusted to personal taste. If you want it only slightly spicy, the Chili Hot can be added after the caramel has cooled. Just add Chili Hot 5 drops at a time, stirring well to incorporate before tasting for preference.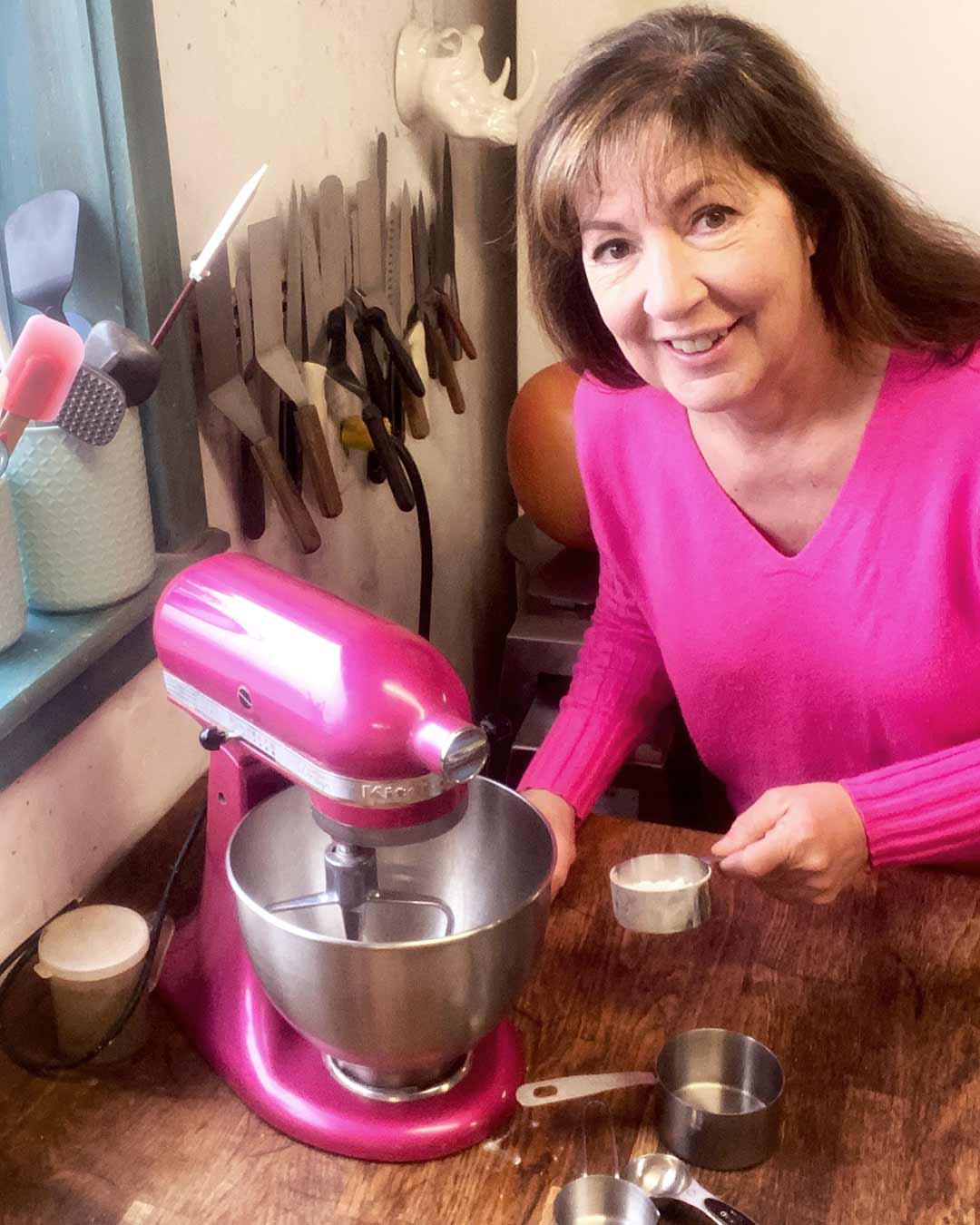 Meet Jackie
Following a career as a professional artist and interior designer, Jackie Troup and her husband moved to his family fruit farm in Jordan, Ontario. Cooking and baking had alway been a passion and hobby, and the new scenery of farm and garden was a wealth of inspiration – one that kickstarted a new path for Jackie and her love for food. Though not classically trained, she was a voracious reader of all things baking and cooking, and in 2009, Jackie started Blossom Bakery, a small wholesale company selling to local stores, farm stands, and farmers markets. The bakery went on to win the Town of Lincoln Small Business Award and Shannon Passero's Women in Business Award.
Jackie's love of developing recipes and creative flair turned to obsession while trying to meet the needs of the ever-growing vegan and gluten communities. The bakery has become a place where everyone can enjoy a tasty treat to suit any palate. Now a seasonal retail bakery on her family farm, customers can see where their food is made and what inspired their creation.
Not sure where to start?
Check out our kits, which include six flavours plus a recipe card for some added inspiration!
More Quick and Easy Recipes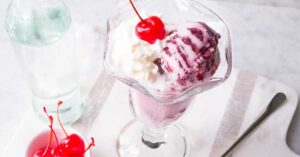 Indulge in a nostalgic blend of ice cream and soda with this Black Cherry Cola...
View More Recipes