Get all the flavour you love, with none of the things you don't. This Air Fryer Crispy Tofu dish is an amazing, nutrient-rich source of protein and a delicious alternative to meat.
But there is more!
We all know that there's a wide variety of vegan mayos out there to choose from, but with only a few select flavours and a handful of simple ingredients, why not make it yourself, flavoured the way you like it? 
The difference between this recipe and other vegan mayo recipes is that you can infuse those umami notes that are sometimes missing in a great tasting mayo! And in this episode Soo is  going to show you just how EASY it is to make both of these recipes! 
You're going to love it!
To cook along with Soo you will need
an air fryer

extra-firm tofu or firm tofu

vegetable oil or olive olive oil

unsweetened soy milk

Dijon mustard

cider vinegar

soy sauce

cornstarch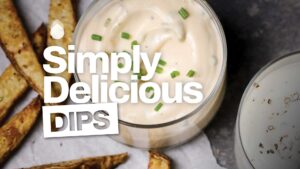 Take a common everyday ingredient like mayo and easily turn it into a Ranch Inspired...
SHOP ALL FLAVOURS