This is nacho ordinary cheese! With a few simple ingredients and flavours to tie it all together Soo is going to show you how easy it is to make a Vegan Nacho Cheese Sauce that you are going to love! It's rich, gooey, and creamy – everything you are looking for in non-dairy cheese sauce. Check it out!
To cook along with Soo you will need
a frying pan and a blender
almond milk
water
medium russet potato
vegetable oil
3 whole cloves of garlic
cider vinegar
kosher salt
ground cumin
sweet smoked paprika
granulated sugar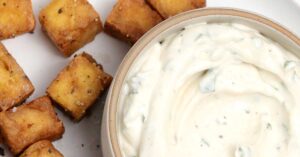 There's a wide variety of vegan mayos out there to choose from, but with only...
SHOP ALL FLAVOURS