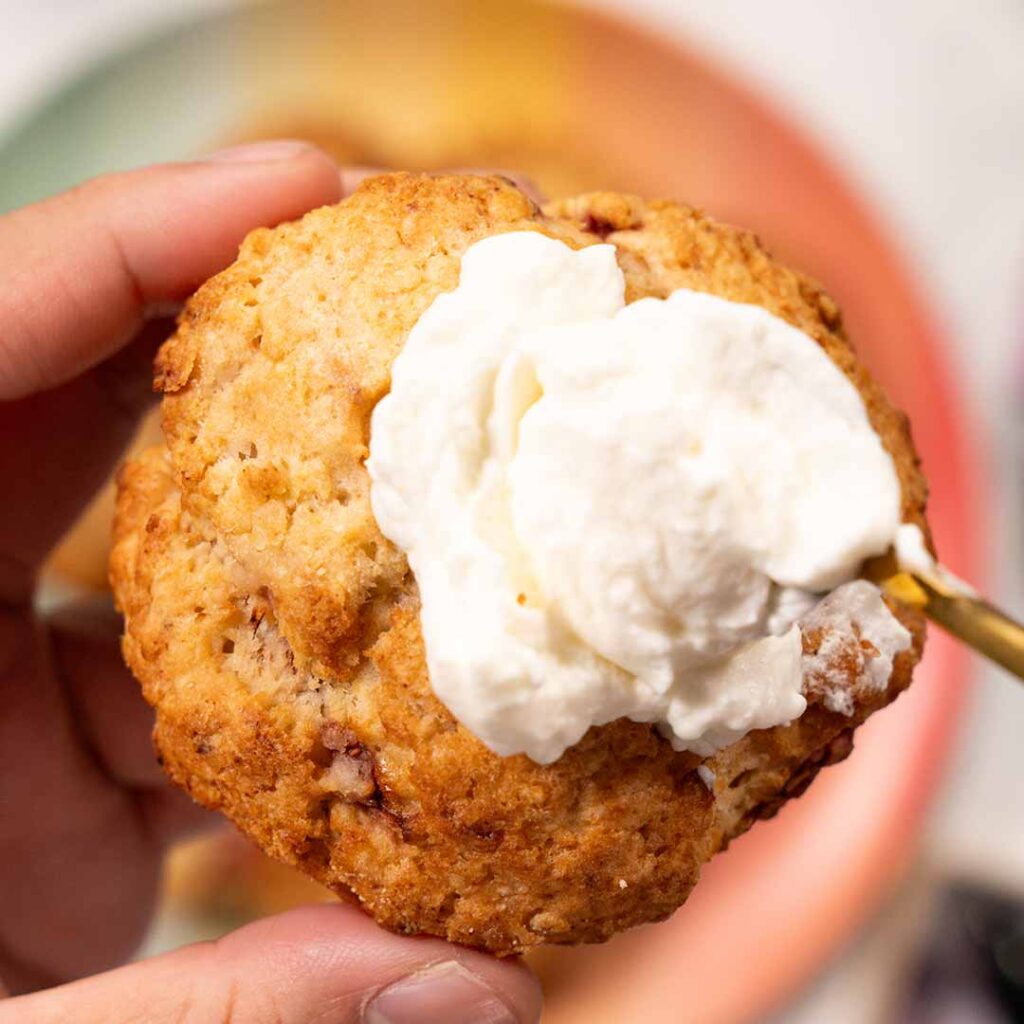 These scones are bursting with a sophisticated sweetness in every bite! 
Whether for breakfast or afternoon tea, these warm, flaky scones are full of flavour and so easy to make. Even if your summer strawberries aren't the sweetest, you can remedy that with just a few drops of our Strawberry flavouring. And with our Botanical Kit, even the everyday baker has access to the softly complex floral flavours of Bergamot, Violet, and Tahitian Bean. They easily add a luxe depth of flavour to your strawberry scones, making them burst with botanical goodness!
Take your scones to the next level with botanicals and see what kind of magic you create!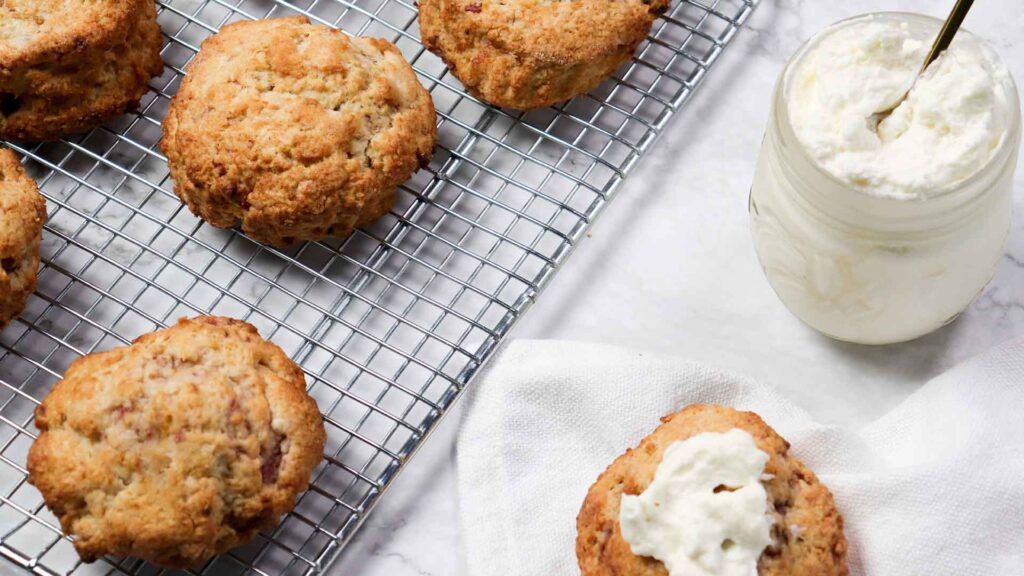 Strawberry Bergamot Scones with Violet Cream
Ingredients
Strawberry Scones
2

cups

all-purpose flour

1

cup

chopped strawberries

1/2

cup

35% cream

2

eggs

1/3

cup

sugar

1/3

cup

very cold butter, cubed

1

tbsp

baking powder

1/4

tsp

salt

20

drops

Hedessent Bergamot Flavouring

15

drops

Hedessent Strawberry Flavouring

15

drops

Hedessent Tahitian Bean Flavouring
Violet Cream
1

cup

35% cream

2

tbsp

sugar

12

drops

Hedessent Violet Flavouring

12

drops

Hedessent Tahitian Bean Flavouring
Instructions
Violet Cream
In a bowl and whisk, 1 cup of cream, 2tbsp sugar, Hedesseent Violet and Tahitian Bean flavours until stiff peaks form. Whisk by hand or a hand or stand mixer. Keep refrigerated until ready to serve.
Strawberry Bergamot Scones
Place flour, sugar, baking powder, and salt in a large bowl and mix together. Cut butter into flour until mixture looks crumbly. The easiest way to do this is with a fork or with your hands, breaking up the butter into small pieces. Toss in strawberries.

In second bowl, whisk together cream, eggs, and flavourings. Pour this into the flour strawberry mixture. Stir with a fork to bring all the ingredients together until it looks like a ragged dough.

Turn dough out onto a floured counter. Lightly knead dough together and pat into a disk that is approximately 1½ inches tall.

Cut out scones using a 3" cookie cutter. If you don't have a cookie cutter, cut into 3" squares.

Place on a parchment-lined baking tray. Brush tops of scones with whipping cream and sprinkle with sugar. Bake for 18-20 minutes or until browned and scones feel firm. Serve warm with violet cream
Notes
This is a great recipe for the novice baker because no special equipment in needed. The secret to delicious, flaky scones is not to over-mix the dough. It's preferable for the dough to look a little ragged and not totally smooth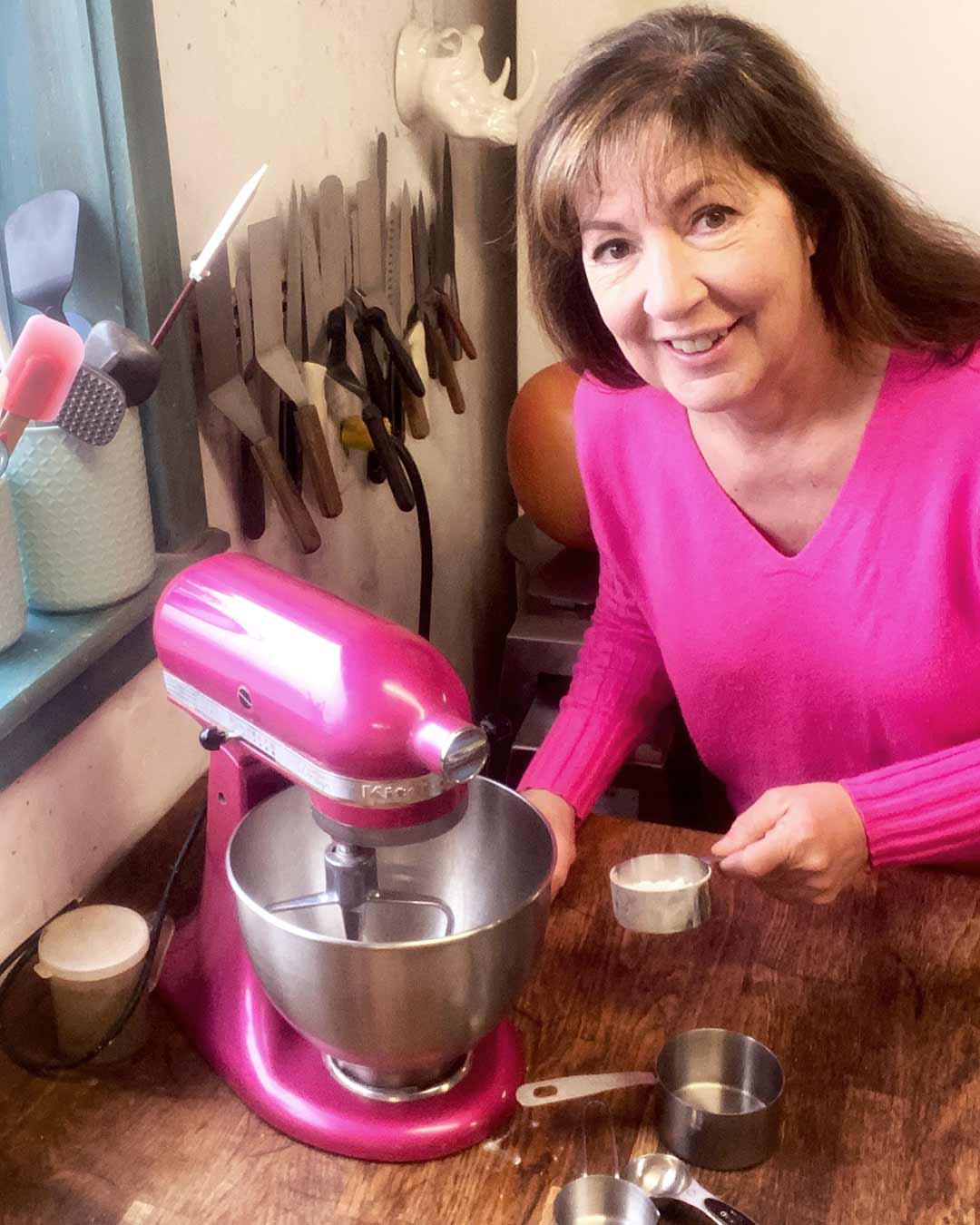 Meet Jackie
Following a career as a professional artist and interior designer, Jackie Troup and her husband moved to his family fruit farm in Jordan, Ontario. Cooking and baking had alway been a passion and hobby, and the new scenery of farm and garden was a wealth of inspiration – one that kickstarted a new path for Jackie and her love for food. Though not classically trained, she was a voracious reader of all things baking and cooking, and in 2009, Jackie started Blossom Bakery, a small wholesale company selling to local stores, farm stands, and farmers markets. The bakery went on to win the Town of Lincoln Small Business Award and Shannon Passero's Women in Business Award.
Jackie's love of developing recipes and creative flair turned to obsession while trying to meet the needs of the ever-growing vegan and gluten communities. The bakery has become a place where everyone can enjoy a tasty treat to suit any palate. Now a seasonal retail bakery on her family farm, customers can see where their food is made and what inspired their creation.
Not sure where to start?
Check out our kits, which include six flavours plus a recipe card for some added inspiration!
More Quick and Easy Recipes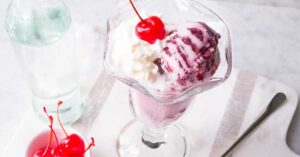 Indulge in a nostalgic blend of ice cream and soda with this Black Cherry Cola...
View More Recipes