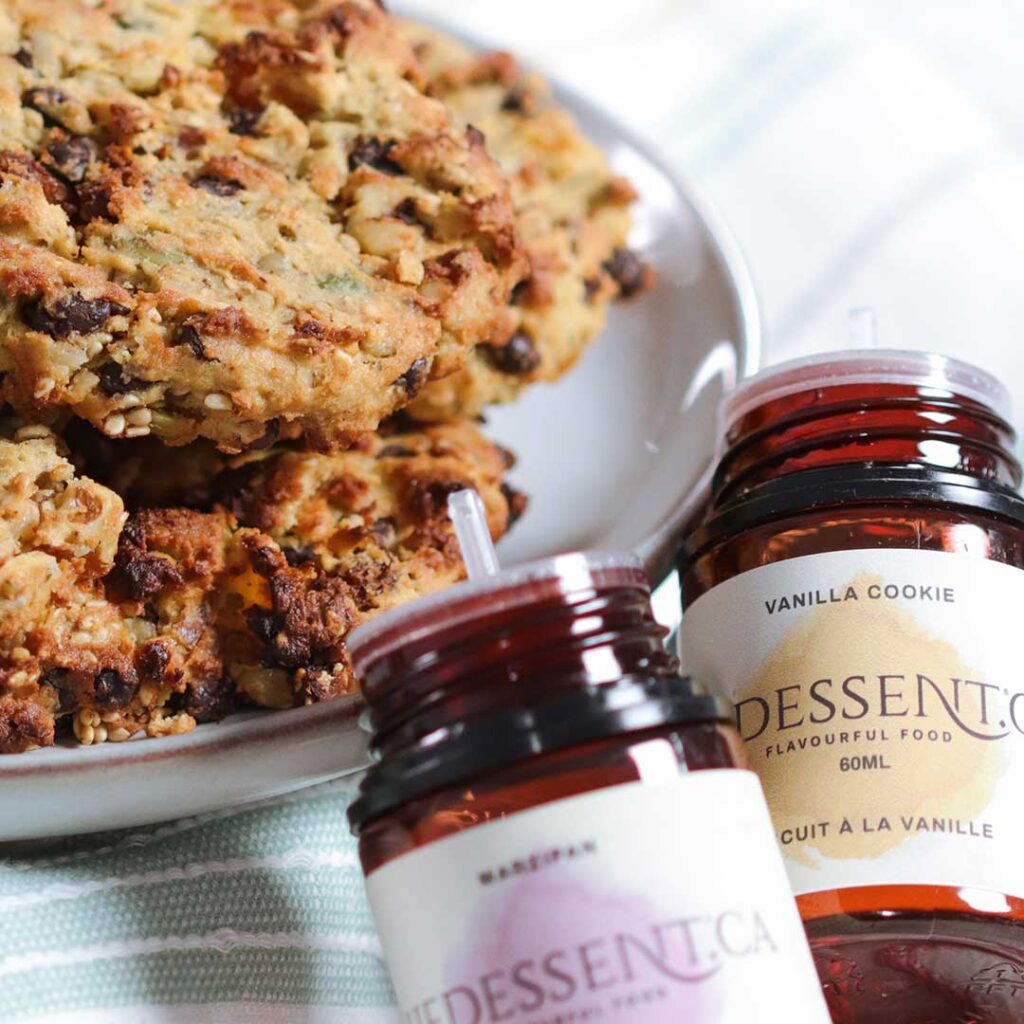 Turn your typical cookie into a powerhouse of nutrients!
Full of protein, vitamins, and minerals, our Flourless Power Cookies cut out all the starchy carbs of flour and replace them with nutrient-dense chickpeas! Blended until smooth, chickpeas make the perfect dough for your next batch of cookies. It's so good, you can even eat it raw!
This recipe is so versatile and allows you to easily play with flavours and mix-ins, so you can create the cookies your heart desires. For this recipe, Jackie started out with a combination of nuts and dried fruit she loves. The addition of our Marzipan and Vanilla Cookie flavourings give these cookies a delicious complexity, making them a sweet treat without adding any extra sugar or fats. Check the Pro Tips included below the recipe to see what other amazing flavour and mix-in combinations Jackie recommends! Have fun and happy baking!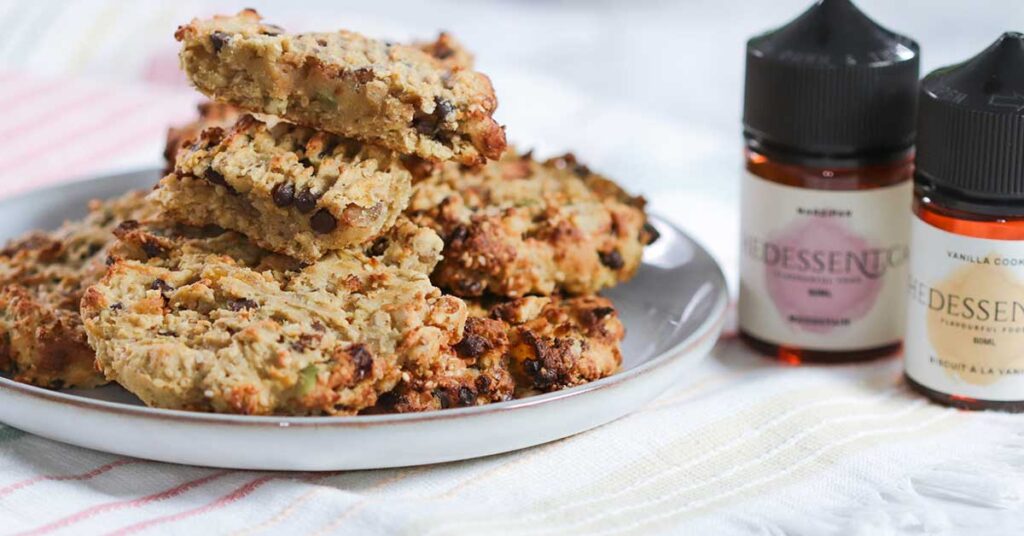 Flourless Breakfast Power Cookie
Turn your typical cookie into a powerhouse of nutrients!
Equipment
food processor or blender
Ingredients
Dough
2

cans

drained chickpeas

1

cup

tahini (sesame butter)

1

cup

brown sugar

20

drops

Hedessent Marzipan Flavouring

- see notes below for alternative flavours

15

drops

Hedessent Vanilla Cookie
Jackie's Recommended Mix-ins (See below for other options)
1

cup

dark chocolate chips

1

cup

chopped walnuts

1/2

cup

seasame seeds

1/2

cup

raisins

1/2

cup

apricots chopped to size of raisins

1/2

cup

almonds slivered or chopped
Instructions
Purée drained chickpeas in food processor or blender until very smooth. (This may have to be done in batches, depending on the size of the food processor or blender.) Add tahini, brown sugar, Marzipan, and Vanilla Cookie flavours and blend until very smooth and well incorporated.

Place in mixing bowl and stir in the mixed ingredients. Refrigerate for 2 hours or overnight.

Scoop dough into large golf ball-sized balls, place on greased or parchment paper-lined cookie sheet, and flatten with a fork.

Bake at 325°F for 16-20 minutes, rotating halfway through baking time. Cookies will be lightly browned. Let cool and enjoy!
Notes
Pro Tip #1:
Another fun flavour combo for this cookie is 14 drops each of  Coconut, Mango, and Tahitian Bean flavours for a bright, tropical twist!
Pro Tip #2: 

The recipe mix-ins are only a suggestion. They can be replaced with 3 cups of your favorite trail mix or other nuts, seeds, and dried fruit. Try pecans, pumpkin seeds, coconut, figs, or dried cranberries.
Pro Tip #3:

As mentioned before, this flourless cookie dough can be enjoyed raw as a treat. It can be made into small power balls that are great for breakfast. You can also roll them in chopped nuts, coconut, or coco powder. The dough keeps for a week in the fridge.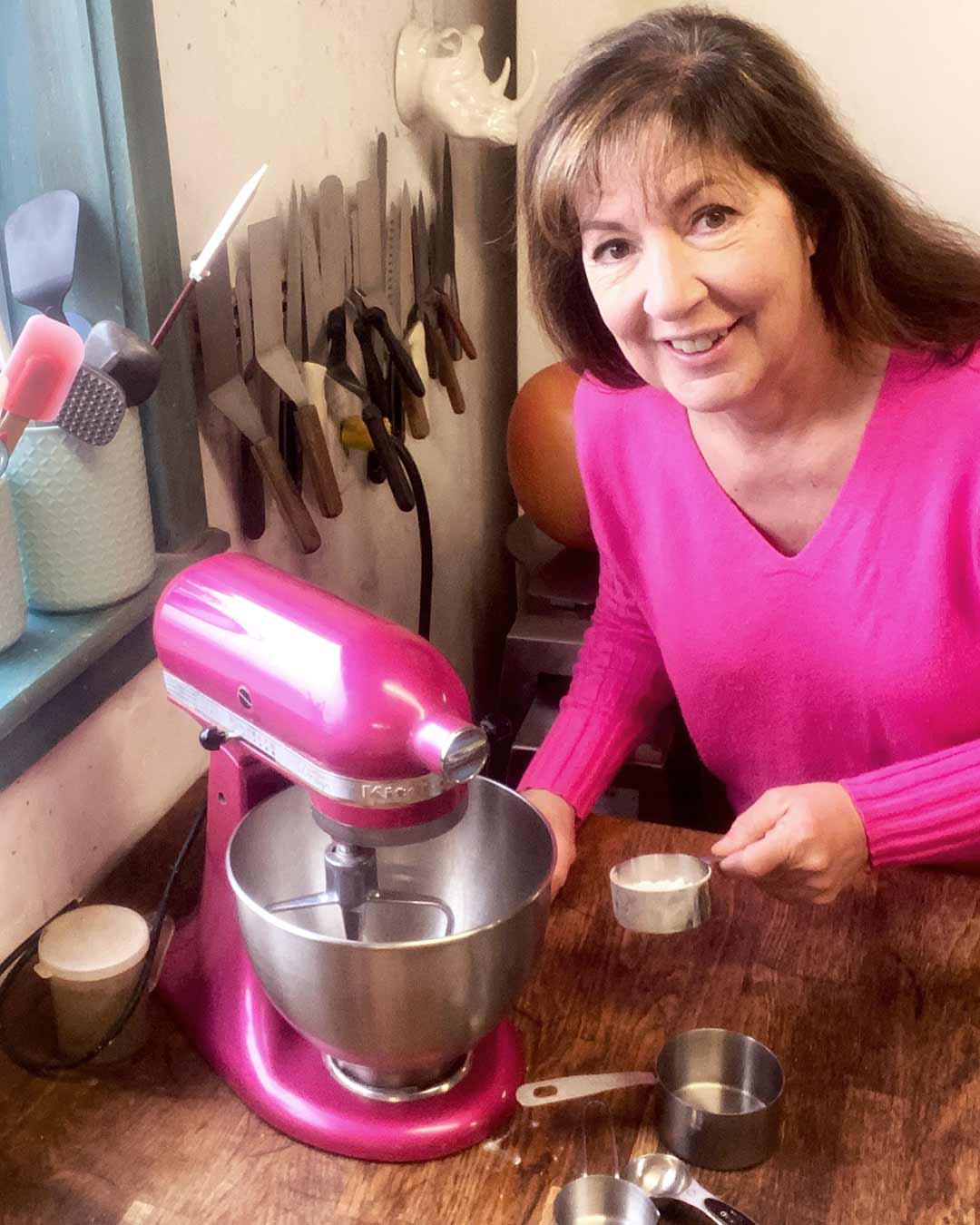 Meet Jackie
Following a career as a professional artist and interior designer, Jackie Troup and her husband moved to his family fruit farm in Jordan, Ontario. Cooking and baking had alway been a passion and hobby, and the new scenery of farm and garden was a wealth of inspiration – one that kickstarted a new path for Jackie and her love for food. Though not classically trained, she was a voracious reader of all things baking and cooking, and in 2009, Jackie started Blossom Bakery, a small wholesale company selling to local stores, farm stands, and farmers markets. The bakery went on to win the Town of Lincoln Small Business Award and Shannon Passero's Women in Business Award.
Jackie's love of developing recipes and creative flair turned to obsession while trying to meet the needs of the ever-growing vegan and gluten communities. The bakery has become a place where everyone can enjoy a tasty treat to suit any palate. Now a seasonal retail bakery on her family farm, customers can see where their food is made and what inspired their creation.
Not sure where to start?
Check out our kits, which include six flavours plus a recipe card for some added inspiration!
More Quick and Easy Recipes
View More Recipes