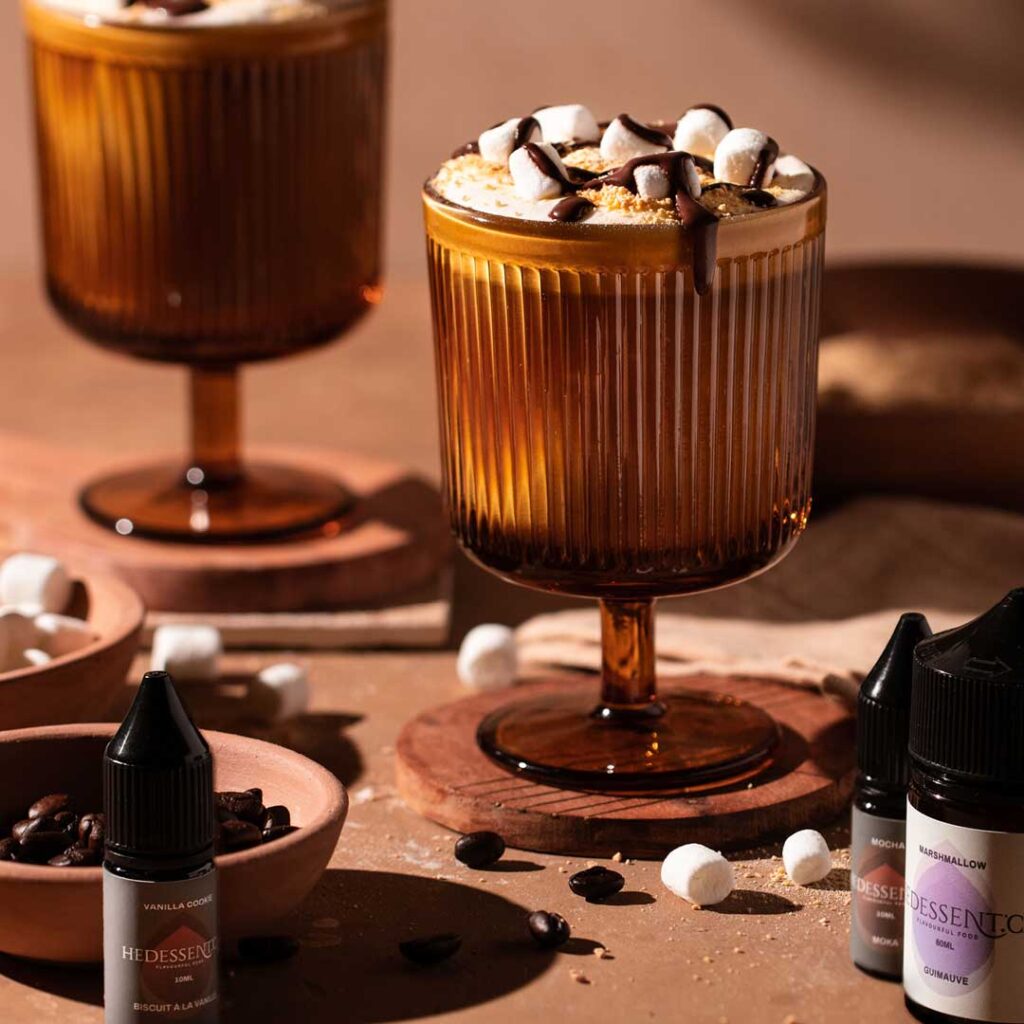 Picture yourself cozily wrapped in a blanket, gazing at the flickering flames, and savoring the irresistible flavours of s'mores.
Now, imagine all of that magic infused into a delish cup of coffee! Best part… you can easily make this yourself and avoid the high coffee shop price – without smelling like a campfire!
This S'mores Cookie Crunch Coffee by Evolving Autumn is a delightful creation that perfectly captures the essence of fall, reminiscent of those sweet summer nights around the fire.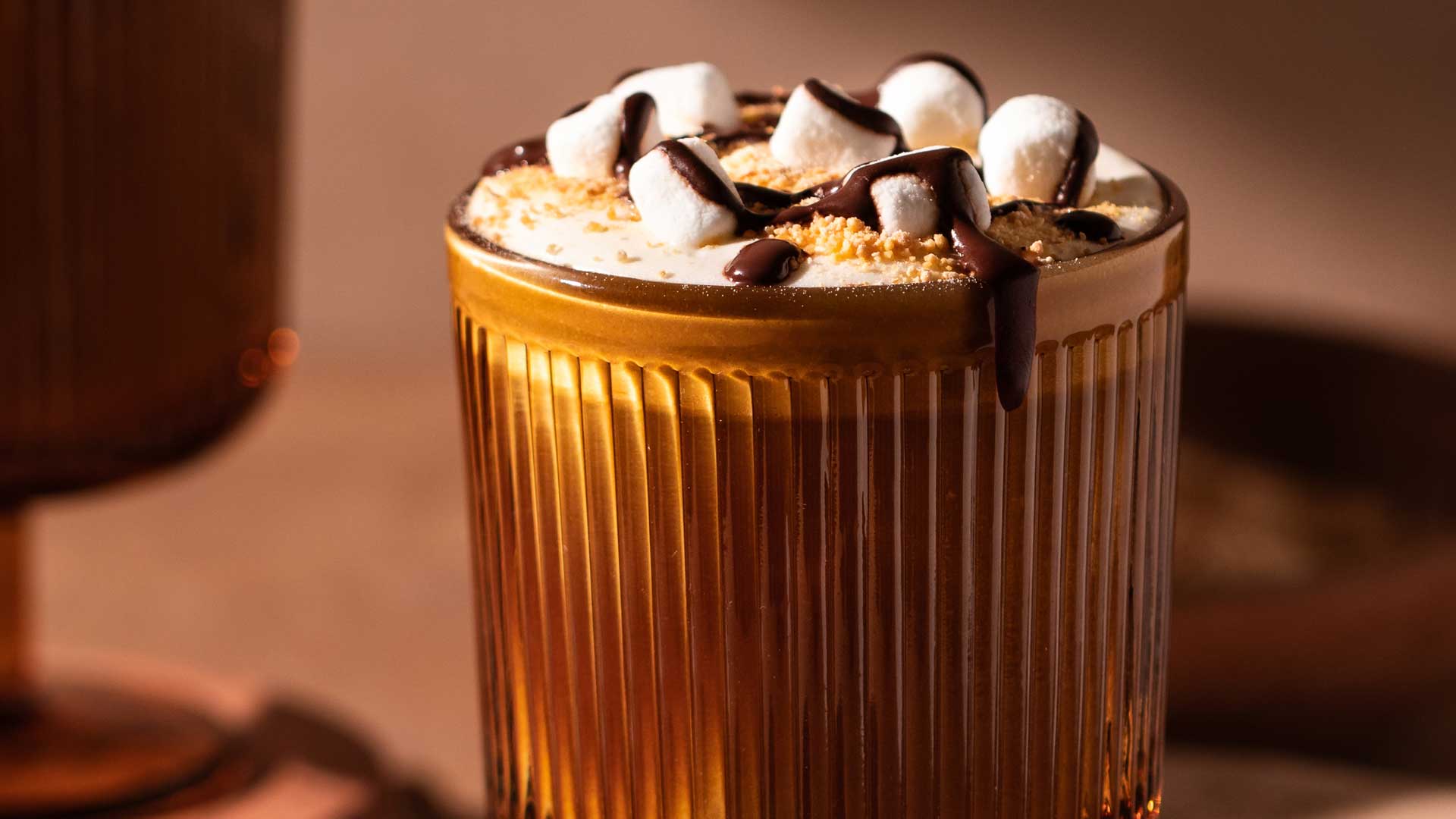 This recipe combines the warmth of dark roast coffee with the comforting embrace of frothed milk or whipped cream. To elevate this experience, Autumn infused layers of flavour using our Mocha, Vanilla Cookie, and Marshmallow flavour drops, topping it off with a sprinkle of graham crumbs and a swirl of chocolate sauce for garnish. These decadent garnishes are entirely optional but highly recommended for an extra touch of campfire nostalgia that you can easily whip up in just under 10 minutes!
This coffee is a warm, comforting hug in a mug, bringing you the flavours of fall with a nod to those cherished summer nights. Sit back, sip, and relish in the cozy embrace of S'mores – no campfire required.
S'mores Cookie Crunch Coffee Recipe
Recipe By Autumn Ongaro | @evolvingautumn
Ingredients
2

cups

brewed, dark roast coffee

- if accessible, look for coffee with rich-tasting notes of chocolate, toffee and/or smoke

1

cup

frothed milk of choice or whipped cream

4

tbsp

maple syrup

50

drops

Hedessent Mocha Flavour Drops

50

drops

Hedessent Vanilla Cookie Flavour Drops

30

drops

Hedessent Marshmallow Flavour Drops

Pinch

salt 
Garnish (optional)
1/4

cup

mini marshmallows

2

tbsp

graham crumbs

2

tbsp

chocolate sauce
Instructions
Divide the coffee between two mugs.

To each mug, add 2 tbsp maple syrup, 25 drops Mocha, 25 drops Vanilla Cookie, 15 drops Marshmallow, and a pinch of salt. Stir to combine.

Pour in the frothed milk or top with whipped cream

If using garnish, top each coffee with marshmallows, graham crumbs, and chocolate syrup. Sit back and enjoy the cozy flavour of S'mores!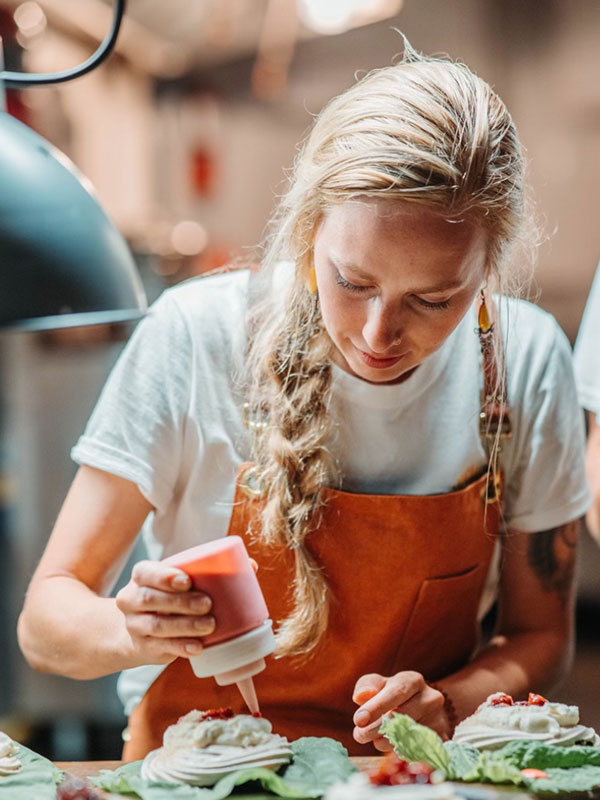 Meet Autumn Ongaro
Autumn is a food photographer, recipe developer, food educator, and gardener. She conjures divine dishes using the bounty of fresh, seasonal ingredients as her inspiration. Autumn's recipes are flavour forward, approachable and aim to inspire connection to each ingredient. Her newly published book FEAD: A Taste of Home in Norfolk County carries you through the four seasons as she shares the histories of local farms and transforms their beautiful crops into approachable dishes. You can follow along with her delicious adventures on Instagram @evolvingautumn.
More Flavourful Inspiration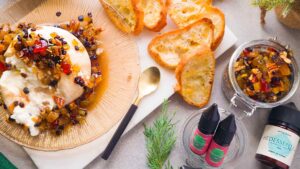 This sweet and spicy topper is a crowd-pleaser, offering versatility that knows no bounds. Pair...
View More Recipes