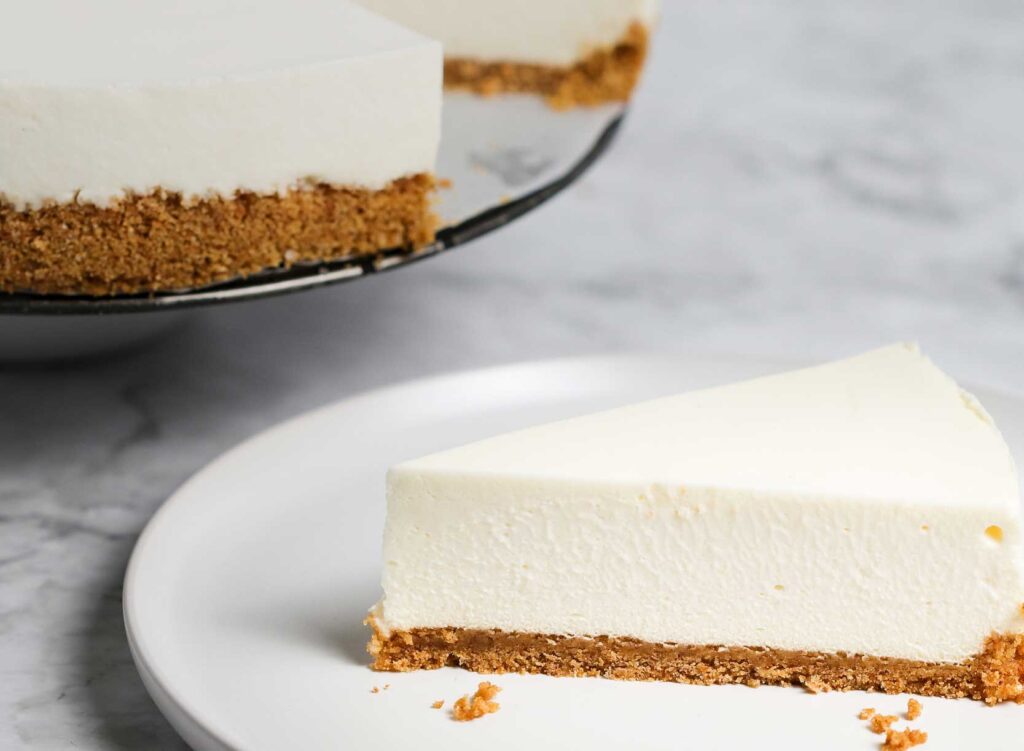 Summer calls for a cold, sweet, refreshing dessert.
But who wants to turn on an oven in this heat? That's why we've whipped up a No-Bake Cheesecake recipe to satisfy your sweet tooth while keeping you cool in the shade AND in the kitchen
For this recipe, we used our Classic Vanilla Flavour to highlight all the fruity notes of our Candied Peach Flavour, which adds in a fun, tangy peach flavour that is reminiscent of the fuzzy peach candies. It's light, sweet, and a fun summer twist on this no-bake treat!
No-Bake Cheesecake
Equipment
9-inch Springform Pan

Food Processor

Stand Mixer
Ingredients
Crust
1 1/4

cups

cups graham cracker crumbs or 17 squares (approx)

3-4

tbsp

unsalted butter, melted

3

tbsp

granulated sugar

1/4

tsp

Kosher Salt
Cheesecake Filling
2

pkg

8 oz cream cheese, at room temperature

1

cup

whipping cream

(35% cream)

1

cup

2% or 5% plain Greek yogurt

3/4

tbsp

cold water

1

tbsp

lemon juice

1

pkg

gelatin

(2 1/4 tsp)

1/2

tsp

Hedessent Candied Peach Flavour

(Can swap Candied Peach Flavour for Hedessent Mango flavour or another flavour of choice, there are a lot to choose from!)

20

drops

Hedessent Classic Vanilla Flavour
Instructions
Crust
Combine graham crackers, sugar, and salt in a food processor; whirl until fine crumbs form. Pulse in butter until combined, mixture should clump together when pressed. Mist or grease bottom of 9-inch springform pan.

Scrape the graham mixture into prepared pan and press with bottom of dry measuring cup over the  base and up 1/2-inch side of pan. Freeze until firm, about 15 minutes.
Cheesecake filling
Meanwhile, whip 35% cream in a stand mixer fitted with a whisk attachment until soft peaks form, 3 to 4 minutes; transfer to a bowl and refrigerate.

Meanwhile, bloom gelatin; stir with cold water in a microwave-safe bowl, about 5 minutes.

Beat cream cheese in same bowl of stand mixer fitted with a paddle attachment on low to medium-low until smooth, 2-3 minutes. Scrape bottom and side of bowl; beat in sugar and lemon juice for 1 minute. Beat in yogurt.

Melt bloomed gelatin in microwave; fold in some of the whipped cream, then scrape into cream cheese mixture and beat on low until incorporated. Fold in remaining whipped cream.

Stir in Hedessent Candied Peach Flavour and Hedessent Classic Vanilla Flavour. Scrape into prepared base, smoothing out until even. Refrigerate until firm, at least 4 hours or overnight for best results.

Insert hot paring knife between cheesecake and pan collar; gently release the collar and lift out cheesecake. For clean slices, dip a chef's knife under hot water and dry before each cut.
Notes
Pro Tip #1:

Don't have a food processor? Place 1 sleeve of graham crackers in a resealable bag and crush with a rolling pin to form crumbs. 
Pro Tip #2:
Swap out graham crackers for digestive cookies, or ginger cookies for a hint of spice. 
Pro Tip #3:

Cover and refrigerate for up to 4 days.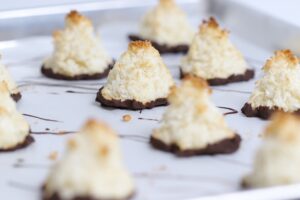 Our Coconut Macaroons are a perfect treat anytime of years. Simple to make and you...
2 Comments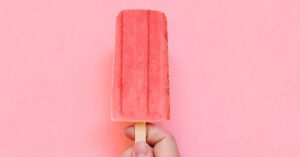 Cool off with some quick and easy Strawberries and Cream Daiquiri Popsicles, which can be...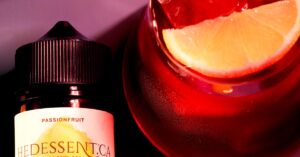 With our Passionfruit flavour this fan fave is now a simple, make-at-home drink that you...