Handed down through generations, an old favourite gets a fresh new update with Hedessent Flavours!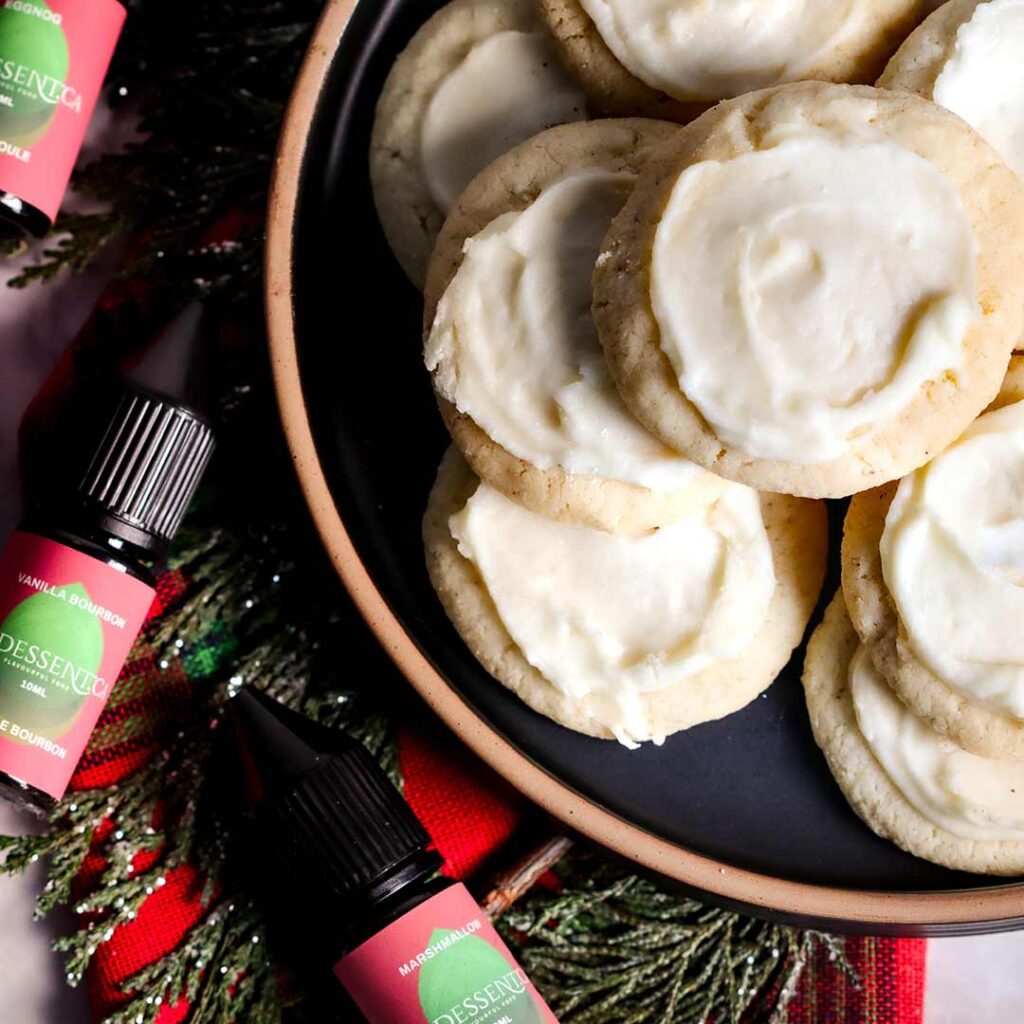 We are so excited to bring you a family recipe from local business owner and brilliant baker, Jackie Troup, of Blossom Bakery! Handed down through generations, an old favourite gets a fresh new update with Hedessent Flavours!
These shortbread cookies are an old family recipe. The Hedessent flavourings take it to the next level. I was so impressed. The Eggnog flavour comes out and Vanilla Bourbon rounds out the flavour. We have made the vegan version for a few years and it was good, but now I wouldn't consider baking these without the Butter flavour. It makes them so legit, adding that subtle taste and smell of butter they were lacking. These flavours are so much fun to use, they really get my creativity going. – Jackie
Thank you so much, Jackie, and welcome to the Hedessent family! We are thrilled to know you've incorporated our flavours into your business, and we are proud to share your recipe with our customers!
If you're in the Jordan, Ontario area, head on over to Blossom Bakery and try out Jackie's amazing baked goods featuring Hedessent flavours!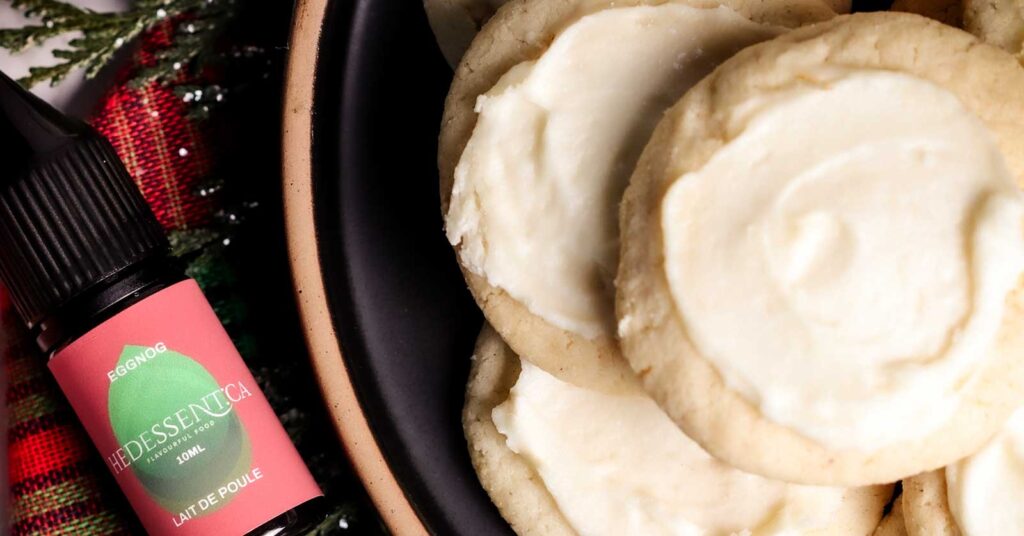 Vegan Eggnog Melting Moments Cookie
Ingredients
Cookie
1 1/2

cups

all-purpose flour

3/4

cup

cornstarch

1

cup

room temperature vegan margarine

7

tbsp

sugar

15

drops

Hedessent Eggnog Flavoring

Available in Limited Edition Holiday Kit

12

drops

Hedessent Vanilla Bourbon flavouring

Available in Limited Edition Holiday Kit

8

drops

Hedessent Butter Flavouring

2

tsp

baking powder 
Icing
2

cups

icing sugar

1/4

cup

vegan margarine

1/4

cup

aquafaba

water from a can of chickpeas

2-3

tbsp

plain, unsweetened oat, almond, or soy milk

10

drops

Hedessent Eggnog Flavouring

Available in Limited Edition Holiday Kit

10

drops

Hedessent Vanilla Bourbon Flavouring

Available in Limited Edition Holiday Kit

6

drops

Hedessent Butter Flavouring
Optional
Food colouring for icing

Sprinkles or nutmeg
Instructions
Preheat oven to 350°F With a stand or hand mixer, cream together softened margarine, flavours, and sugar until light in colour, about 2-3 minutes.

Turn mixer to low and slowly add flour, cornstarch, and baking powder. Mix until just combined and turn onto counter to finish dough by lightly kneading by hand.

Pinch off small pieces of dough and roll into 1-inch balls. Place balls on parchment-lined baking trays and flatten slightly with your thumb. Bake for 12 to 14 minutes, checking halfway. Rotate pans if needed.

While cookies are baking, combine all icing ingredients except plant milk in a separate bowl and beat until smooth. Add plant milk one tablespoon at a time to make a creamy mixture. Icing should hold its shape but still be soft enough to spread without breaking the cookie.

Personalize your cookie! Add food colouring to icing if desired. Ice cooled cookies (you can use a knife or a piping bag) and top with a pinch of nutmeg or a few sprinkles.
Notes
Pro Tip #1:
Beginner friendly! This shortbread cookie truly lives up to its name of melting in your mouth. Hedessent Eggnog and Vanilla flavourings add that special touch.
Pro Tip #2:
Mixer not required! You can make this cookie by hand by using a very soft margarine. Mix margarine and sugar vigorously with a wooden spoon. Mix icing with a whisk.
Pro Tip #3:
Use brick- style vegan margarine or vegan butter, not soft spreadable.
Pro Tip #4: 

Swap out white sugar for dark brown sugar in cookie dough. Swap out Hedessent Eggnog for Gingerbread flavours in cookie and icing recipe.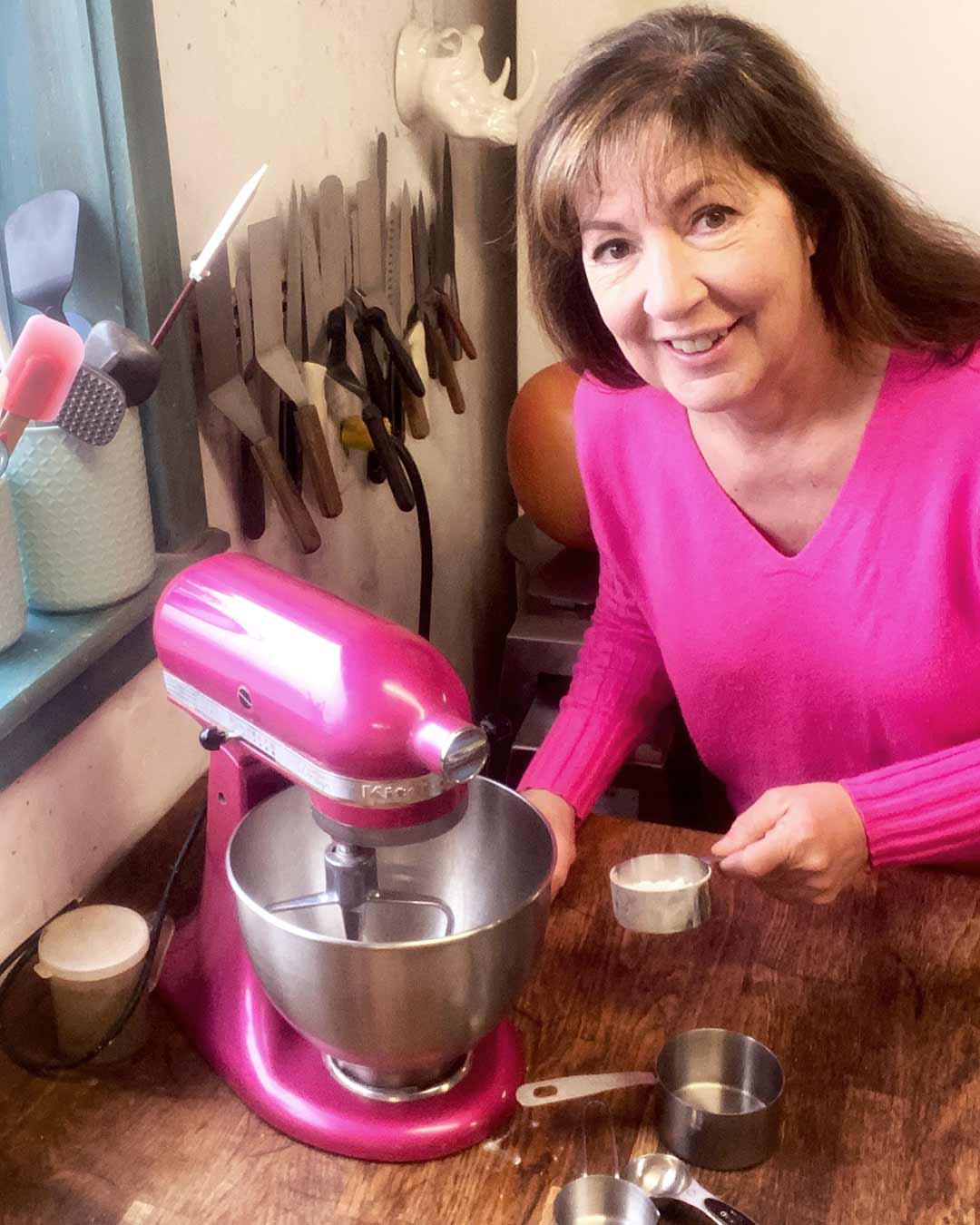 Meet Jackie
Following a career as a professional artist and interior designer, Jackie Troup and her husband moved to his family fruit farm in Jordan, Ontario. Cooking and baking had alway been a passion and hobby, and the new scenery of farm and garden was a wealth of inspiration – one that kickstarted a new path for Jackie and her love for food. Though not classically trained, she was a voracious reader of all things baking and cooking, and in 2009, Jackie started Blossom Bakery, a small wholesale company selling to local stores, farm stands, and farmers markets. The bakery went on to win the Town of Lincoln Small Business Award and Shannon Passero's Women in Business Award.
Jackie's love of developing recipes and creative flair turned to obsession while trying to meet the needs of the ever-growing vegan and gluten communities. The bakery has become a place where everyone can enjoy a tasty treat to suit any palate. Now a seasonal retail bakery on her family farm, customers can see where their food is made and what inspired their creation.
More Recipes You've Got to Try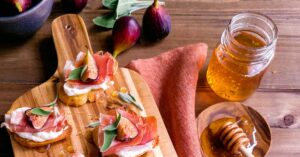 Start your get-togethers off right with this Roasted Fig and Ricotta Crostini drizzled with a...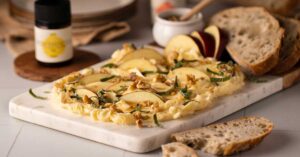 This Spiced Apple Compound Butter is the perfect addition to toast, seasonal baked goods or...
2 Comments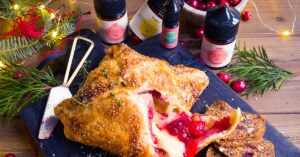 Delight your holiday guests with this tasty Petit Baked Brie with a spiced honey drizzle....
View More Recipes