A simple and tasty Christmas morning dish that will quickly become a new tradition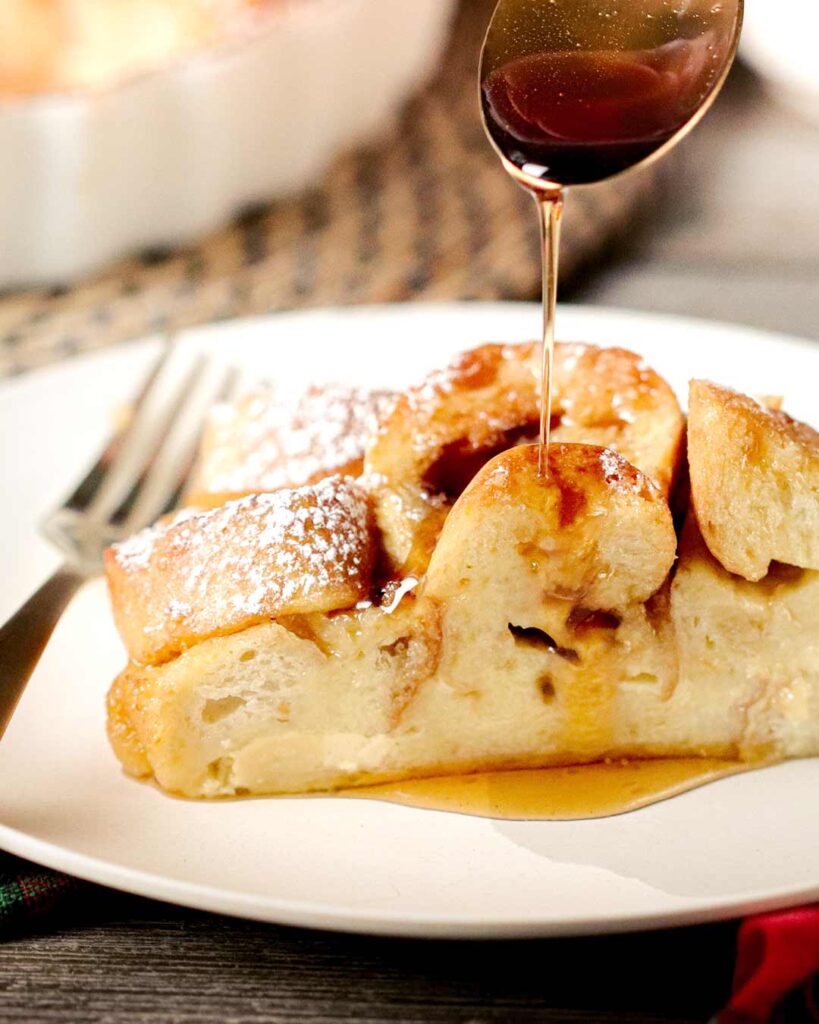 When it comes to breakfast, there are few things more comforting and satisfying than french toast… especially on a cold winter day. Keep Christmas morning easy by prepping this ahead of time – just refrigerate overnight and throw it in the oven when ready… without missing any of the holiday fun.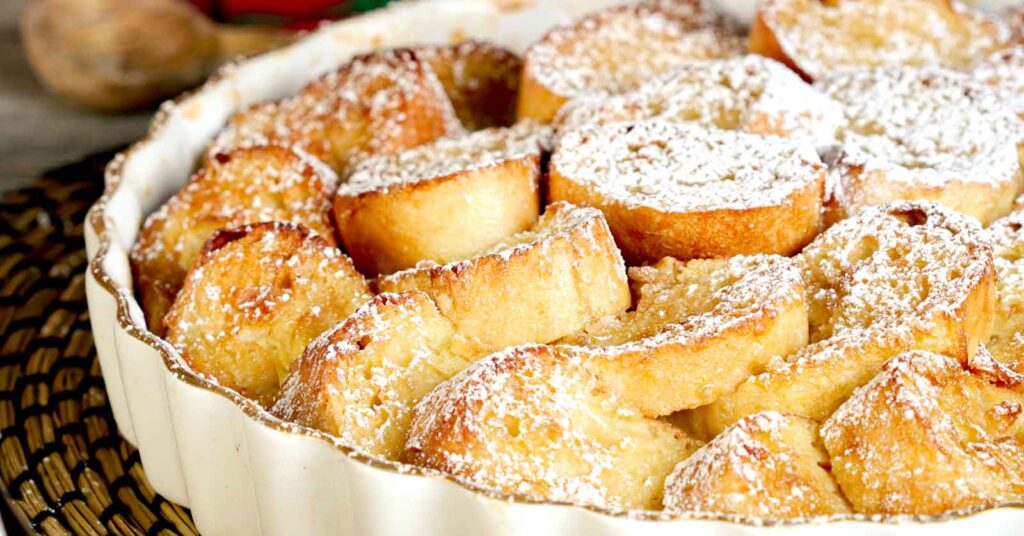 Festive French Toast Bake
Ingredients
French Toast
1

French baguette bread sliced in ½ inch slices

3

whole eggs plus 2 egg yolks 

2 1/2

cups

10% cream

1/3

cup

brown sugar plus ¼ cup to sprinkle

15

drops

Hedessent Vanilla Cookie Flavouring

Available in Coffee Lovers kit OR 60ml bottles

10

drops

Hedessent Almond Flavouring

Available in Holiday Kit OR 60ml bottle

Butter to grease dish
Garnish (optional)
icing sugar for dusting

fresh berries of your choice
Vanilla Maple Syrup
2

cups

real maple syrup

10

drops

Hedessent Vanilla Cookie Flavouring
Instructions
Preheat oven to 325°F. Grease 10" round tart or cake pan. (Not with a removable bottom)

For custard, whisk together eggs, egg yolks, brown sugar, and Hedessent flavours. Add cream and whisk to combine. Fold in french bread slices. Arrange custard-soaked bread slices in concentric circles, beginning with the outside of the pan. Pour remaining custard over the bread. Cover with plastic wrap and refrigerate overnight.

Remove plastic wrap and sprinkle with ¼ cup brown sugar. Bake for 25-30 minutes or until the casserole is toasty brown, puffed, and a tester comes out clean. Warm maple syrup and Vanilla Cookie flavou in the microwave or on a low stove. Enjoy!
Gingerbread Raisin French Toast Bake
Using raisin bread instead of baguette, cut into cubes and add 15 drops Hedessent Gingerbread instead of Almond and Vanilla Cookie flavours. Add one apple, finely chopped, to maple syrup and 10 drops Gingerbread flavouring. Cook on low until apples soften. Enjoy!
Notes
This recipe has a tradition in our home for Christmas morning. It requires minimal work, and can be easily doubled to feed a crowd, or have amazing leftovers. Even if you only have one of the flavours listed, this recipe will still be a success! - Jackie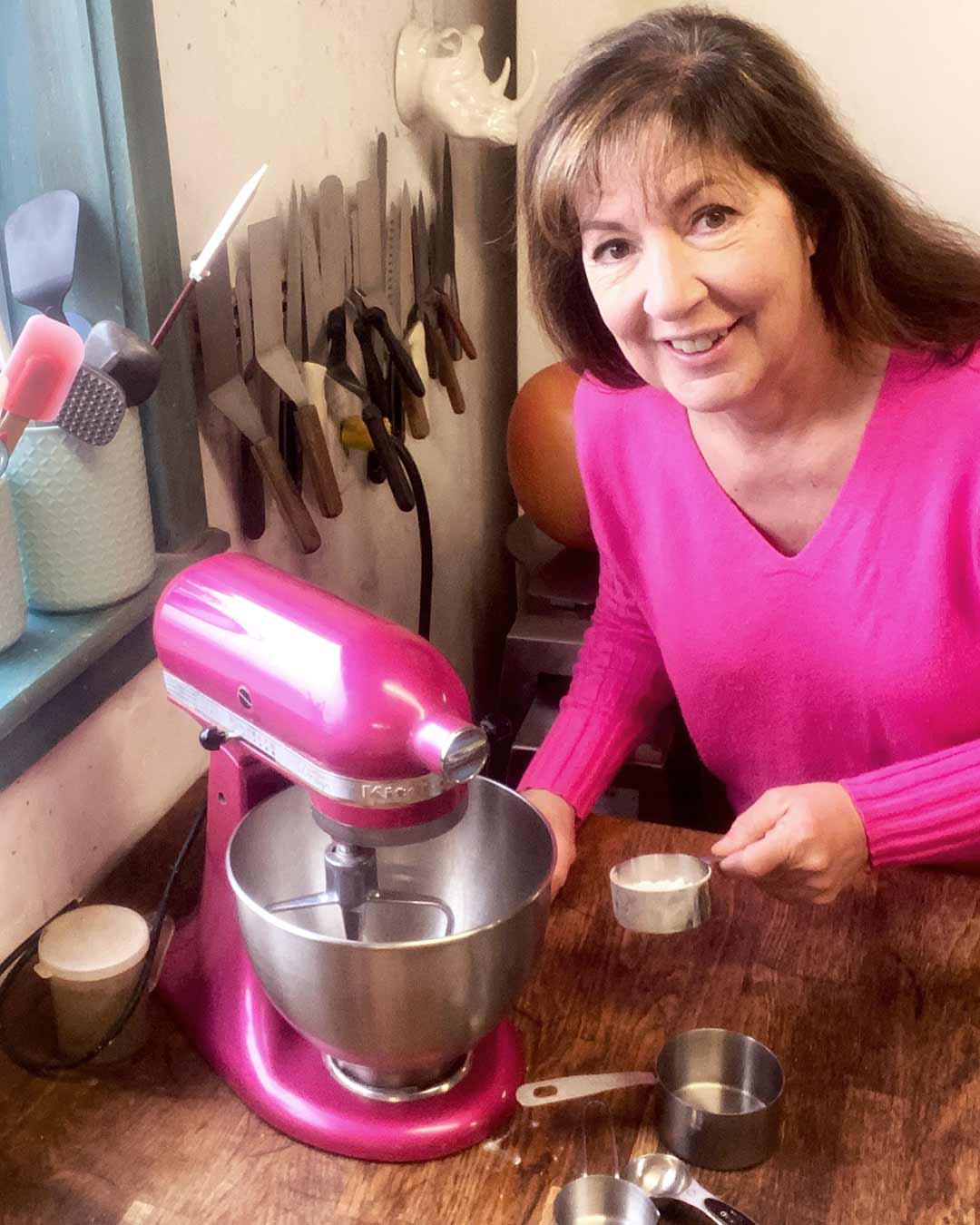 Meet Jackie
Following a career as a professional artist and interior designer, Jackie Troup and her husband moved to his family fruit farm in Jordan, Ontario. Cooking and baking had alway been a passion and hobby, and the new scenery of farm and garden was a wealth of inspiration – one that kickstarted a new path for Jackie and her love for food. Though not classically trained, she was a voracious reader of all things baking and cooking, and in 2009, Jackie started Blossom Bakery, a small wholesale company selling to local stores, farm stands, and farmers markets. The bakery went on to win the Town of Lincoln Small Business Award and Shannon Passero's Women in Business Award.
Jackie's love of developing recipes and creative flair turned to obsession while trying to meet the needs of the ever-growing vegan and gluten communities. The bakery has become a place where everyone can enjoy a tasty treat to suit any palate. Now a seasonal retail bakery on her family farm, customers can see where their food is made and what inspired their creation.
More Recipes You've Got to Try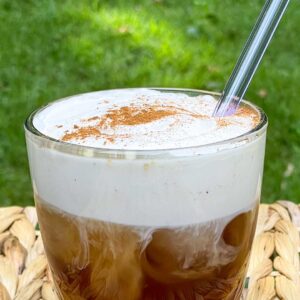 See how Emily Hill unlocks a world of gourmet flavours and savings with her cold-brew...
View More Recipes