Anytime is a good time for Strawberry Shortcake.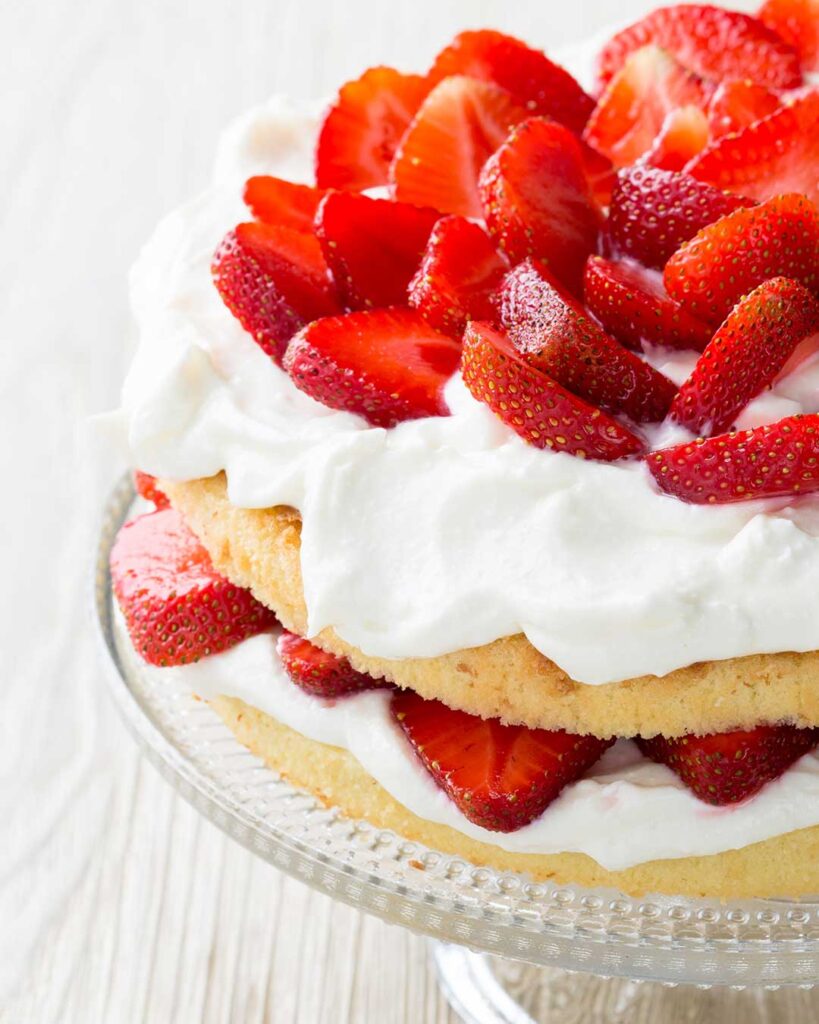 Even when strawberries aren't in season, you can enjoy the deliciousness that is Strawberry Shortcake. With the use of our Strawberry Flavouring you can brighten your berries with just a few drops.
Looking to explore the world of flavour through baked treats? This shortcake recipe is a great one for just that!  From the sponge, to the whipped cream, even the berries, you can really get creative and take this classic dessert to the next level. In the recipe below we gave you flavouring recommendations and amounts so you have a starting point. Feel free to switch out any of the flavours with your personal faves.
Happy Baking!
Strawberry Shortcake recipe
Equipment
8" springform pan

4 mixing bowls
Ingredients
Cake
1

cup

unbleached all-purpose flour

1

cup

sugar

1/2

cup

unsalted butter, softened

1/2

cup

milk

3

eggs

separated

- keep both egg whites and yolks in separate bowls

1

tsp

baking powder

1/2

tsp

Hedessent Vanilla Bourbon Flavouring

1/4

tsp

salt

1/4

tsp

cream of tartar
Strawberries
1 1/2

cups

sliced strawberries

1

tsp

sugar

5-8

drops

Hedessent Strawberry Flavouring

recommended for strawberries that are not in season
Whipped Cream
1 1/2

cups

whipping cream

- 35% cream

1

tbsp

confectioners' sugar

1/4

tsp

Hedessent Strawberry Swirl Flavouring or Vanilla Bourbon Flavouring

- see below for other flavour options.
Garnish
Strawberries sliced or cut in wedges for garnish
Instructions
Making Your Cake
Preheat the oven to 350 °F. Butter an 8-inch springform pan and line the bottom only with parchment paper. Set aside

In a bowl, combine flour, baking powder, and salt.

In a separate bowl, beat the egg whites and cream of tartar with mixer until soft peaks form. Gradually add 1/2 cup of the sugar, beating until stiff peaks form.

In a third bowl, beat the remaining sugar, butter, egg yolks, and Vanilla Bourbon flavour with mixer at low speed. Slowly adding in dry ingredients and milk alternating between the two.

Stir a quarter of the meringue into the batter to lighten it. With a spatula, gently fold in the remaining meringue. Pour into the prepared pan.

Bake for approx. 55 minutes or until a toothpick inserted in the centre come out clean. Unmould immediately and let cool on a wire rack (approximately 25mins)
Flavoured Strawberries
In a clean bowl, combine the strawberries, sugar, and flavouring. Set aside. If strawberries aren't overly ripe, marinating them in our strawberry flavour will brighten them. Alternatively you can also infuse an orange flavour, or forest fruit flavour. Have fun with it.
Whipped Cream
In a bowl, whip the cream, sugar, and Strawberry Swirl flavouring with mixer until stiff peaks form. Set aside.
Putting it all together
Cut the cake in half horizontally to make two slices.

Spread 1 cup of the whipped cream on the cut side of each slice. Scatter the strawberries on the whipped cream of a slice of cake. Cover with the other slice of cake, whipped cream side down

Garnish the top of the cake with the remaining whipped cream and fresh cut strawberries.
Notes
Alternative Flavour Pairings.

You can have a lot of fun with this recipe. The Vanilla Bourbon flavour is an easy elevation on the classic flavour of Strawberry Shortcake, or Strawberry Swirl which is a beautiful candied blend of Strawberry and Vanilla notes. Other flavours that would be great in this recipe in place of the Vanilla Bourbon:
Orange 

Orange with Vanilla Ice Cream 

Marshmallow

Coffee Espresso and Vanilla Cookie 

Crispy Doughnut and Caramel 
There really is no wrong way to flavour your cake. Just remember a little goes a long way. Have fun with it! 
Recent Recipes
View All Recipes