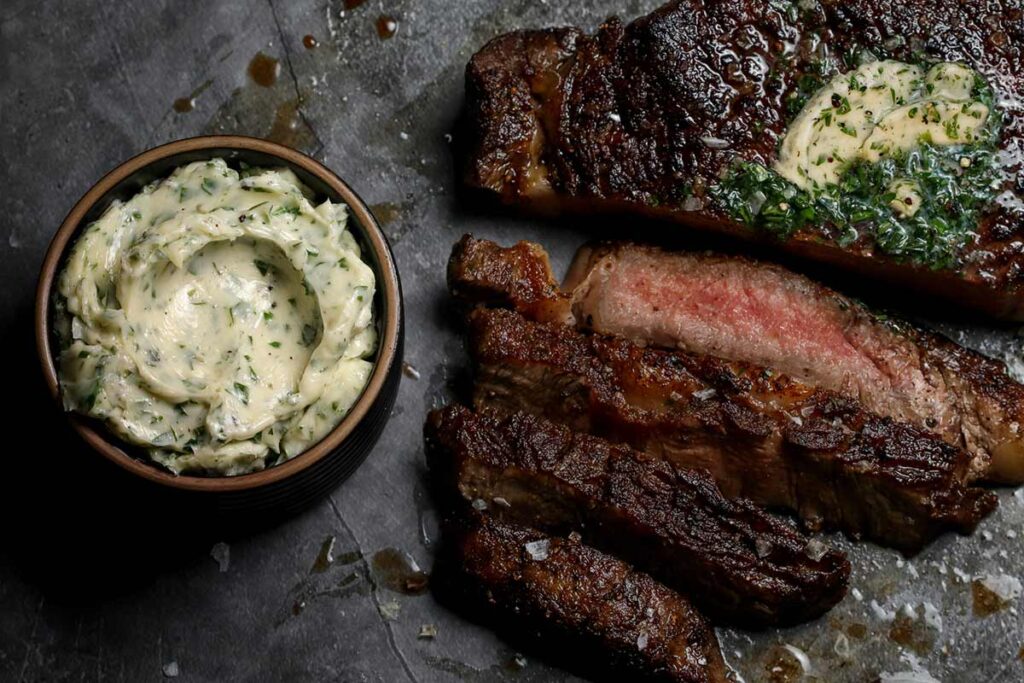 Bring any dish to the next level with this delicious Truffle Butter recipe.
Our Black Truffle Flavour is beyond decadent and the perfect companion to the rich, savory taste and texture of the steak. Earthy and hearty, it deepens and elevates this succulent cut with all the notes of mushrooms but without any of the texture and at a fraction of the price. The Rosemary Flavour brightens and adds in a fresh, fragrant, woodsy aroma, minus any leaves to get in the way. Together, you have a masterpiece that the world's best dad is sure to enjoy!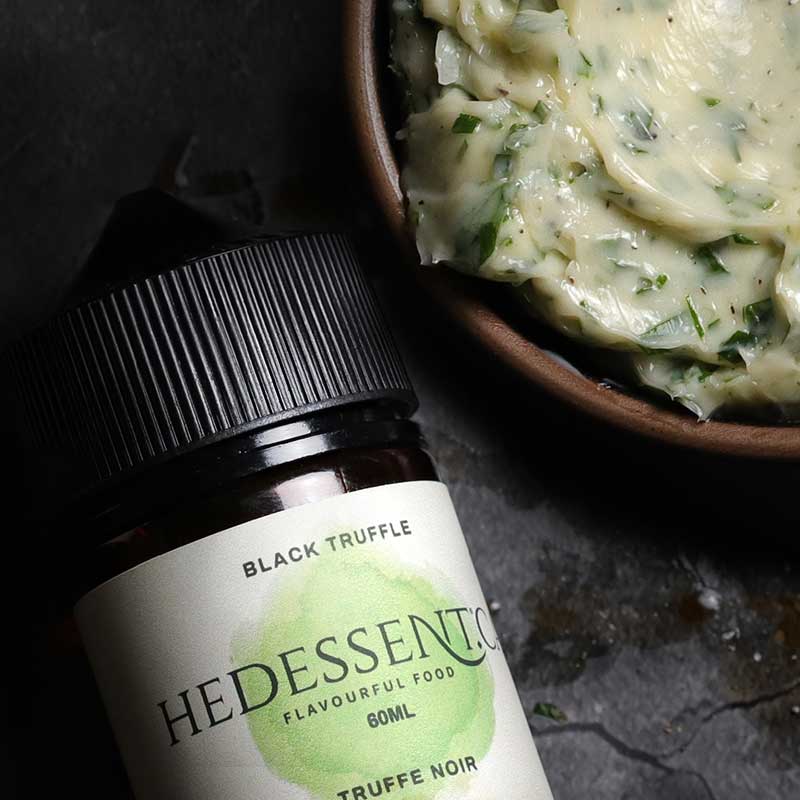 Interested in learning how to make the juiciest steak? This recipe has that too! 
Like our Smash Burgers, the most effective way to get the best cook on a steak is in a cast-iron skillet. The high heat and caramelization you get from this cook creates a delicious, crispy crust you just can't achieve on a grill, and you won't lose any of the savory juices along the way. For this recipe, we use our preferred cut – the glorious ribeye. The gorgeous marbling adds a ton of flavour and keeps the meat tender and juicy throughout the cooking process – a feat not all prime cuts of beef can accomplish. So how, exactly, do we do this beauty justice? With Hedessent flavourings, of course!
The best steaks are juicy, flavourful, and often paired with butter, so we put together our own compound butter featuring two of our top picks. Compound butter is a quick, easy way to infuse a variety of flavours to any dish. With our line of food flavours, there's no mess, no awkward mix of textures, and prep is a breeze. 
Truffle Butter and the Juiciest Steak
Equipment
Large cast-iron skillet

Instant-read thermometer

Cooling rack

Baking Sheet

Tongs

Large metal spoon
Ingredients
Truffle Compound Butter
1/2

cup

unsalted butter, softened

2

tbsp

chopped parsley

1/2

tsp

kosher salt

1/2

tsp

pepper

1/4

tsp

Hedessent Black Truffle Flavour

(40-50 drops)

35-40

drops

Hedessent Rosemary Flavour
Steak
24

oz

(700g) ribeye steak, cut 1 1/2" thick

(boneless recommended, but you can get get bone in, whichever you prefer)

2

tbsp

vegetable oil

2

tbsp

unsalted butter

1 1/2

tsp

kosher salt

1 1/2

tsp

freshly ground pepper

1

large clove of garlic, smashed
Instructions
Truffle Butter
In a small bowl, mash together the butter, parsley, salt, pepper, Black Truffle flavour, and Rosemary flavour until well combined.

Scrape butter mixture onto a square of plastic wrap placed on your work surface. Fold plastic over and shape into a cylinder (1½ inches in diameter), twisting the ends. Roll back and forth on the counter to smooth out butter. Refrigerate until solid.
Pan-Fried Steak
Pat steak dry with a paper towel and then sprinkle with salt and pepper; let stand on a rack set over a baking sheet.

Bring a large cast-iron skillet to high heat until very hot, 6 to 8 minutes. Add oil and swirl pan until the oil shimmers. Place steak in centre and flip every 30 to 40 seconds, rotating the cooking spot in skillet, until a golden-brown crust develops, about 4 minutes. 

Reduce heat to medium-high. Add butter and garlic and continue to cook steak, flipping and basting the foaming butter with a large metal spoon to evenly brown any light spots. Baste butter over steak, tilting pan to scoop and spoon over steak, until a digital thermometer inserted in centre reads 130°F for medium-rare, about 8 minutes, or until desired doneness.

Transfer steak to rack and let rest 5 minutes before slicing across the grain. Serve with juices and truffle butter.
Notes
Pro Tip #1
:
Refrigerate compound butter for up to 2 weeks or freeze for 2 months.
Pro Tip #2
:
Start with a thick steak, at least 1½ -inch thick. A thick steak helps to develop a contrast between the interior and exterior, and a thinner steak will overcook before developing a good crust.
Pro Tip #3
:
Add leftover truffle butter to mashed potatoes, baked potato, corn on the cob, or use melted truffle butter as a dip for lobster, crab, or shrimp.
MUST HAVE GOURMET FLAVOURS