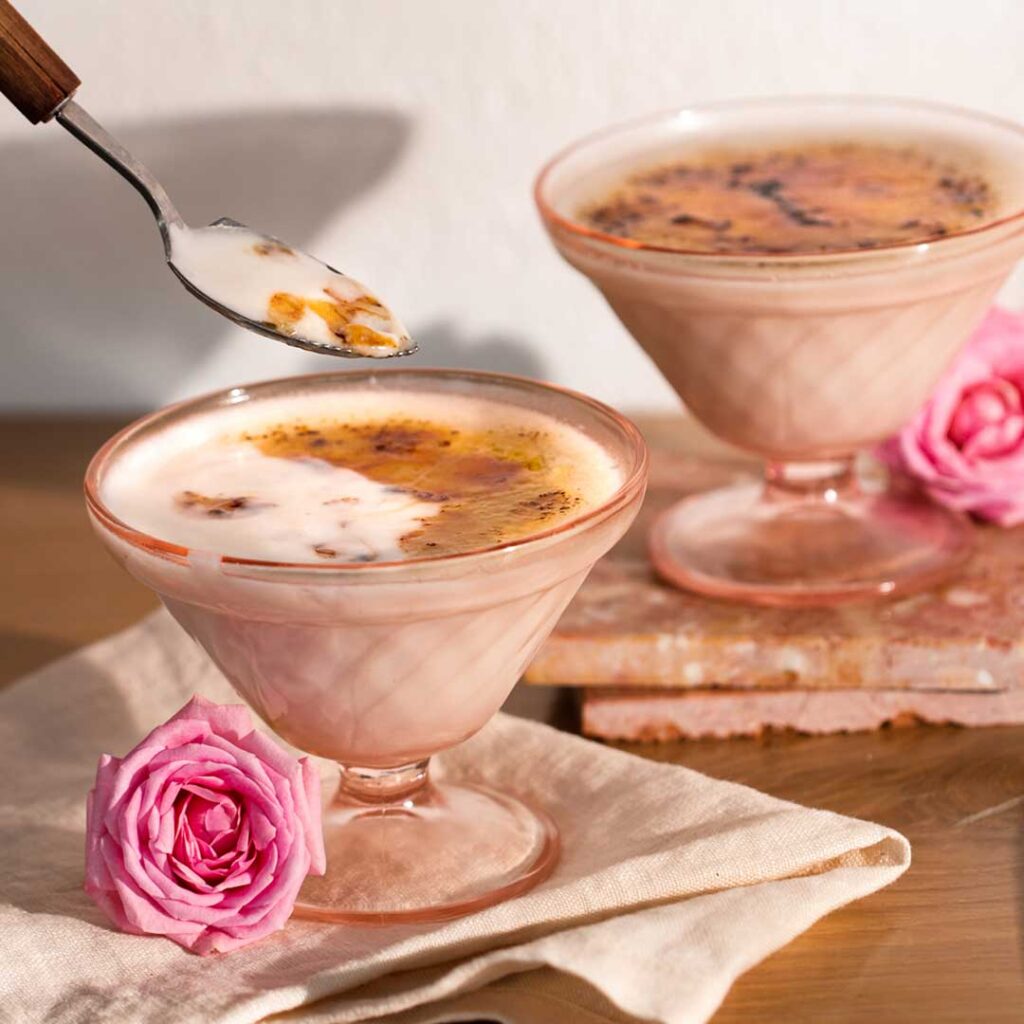 This vegan crème brûlée is everything you want in a dessert! It has the perfect contrast with creamy custard filling and crisp sugar topping. It's also ridiculously easy to make, is no-bake, and is friendly for many, as it's egg and dairy-free. What really makes this crème brûlée stand out from all the others is the fresh, fragrant flavours of Rose and Tahitian Bean. You won't want crème brûlée any other way after trying this!"
– Autumn Ongaro
Rose Crème Brûlée Recipe
Ingredients
1

cup

full-fat coconut milk

1/4

cup

sugar

1/4

cup

cashews

2

tbsp

sugar

1

tbsp

cornstarch

20

drops

Hedessent Rose Flavouring

20

drops

Hedessent Tahitian Bean Flavouring

Pinch

salt
For Serving
2

tbsp

sugar

- 1/2 tbsp each for torching/broiling
Instructions
Combine the coconut milk, 2 tbsp sugar, cashews, and cornstarch in a saucepan. Bring to a simmer over medium heat, stirring occasionally until heated through. This may take up to 5 minutes.

Pour into a high-speed blender and add in the Rose and Tahitian Bean flavourings and salt. Blend on high until smooth and creamy, about 30 seconds

Pour into 4 ramekins or dishes of choice, ensuring they are heat-safe if you plan on torching the sugar on top. Place in the fridge to set for at least 2 hours or overnight (the longer it sits, the thicker it will become).

Before serving, evenly sprinkle the tops with remaining sugar – approximately 1/2 tbsp each. Use a kitchen torch to caramelize the sugar and create a crispy topping (it should be golden brown with darker spots throughout). Enjoy!
Notes
ProTip:
The crème brûlée can be stored in the fridge for up to 3 days, but it's best to torch the sugar right before serving.
Alternative Way to caramelize top if you don't' have a kitchen torch:
1) Set your oven on Broil (high) and put your rack on the top shelf.
2) Let the oven get nice and hot (3-7 minutes).
3) Dust the tops of your custard with sugar
4) Fill an oven-safe dish with crushed ice and water and place your ramekins into the ice/water bath.
5) The cold bath should keep the custard from cooking. but the sugar on top will heat till it caramelizes.
It'll only take 3-4mins.